A year ago, the winners of BLAST Premier Spring Groups 2022 were FaZe, OG and Vitality. FaZe's unexpected new dominance began with this tournament. Maybe the beginning of the season will show us the teams that will be the kings of the CS:GO scene this year. Predictions from Cyber-sport.io will help you choose your favorites and underdogs.
BLAST Premier Spring Groups 2023 format
The tournament format remains unchanged. Group stage: Double elimination Bo3. Groups winners qualify for Spring Final, remaining teams proceed to the Knockout Stage. Playoffs: Knockout Stage: Single elimination Bo3. Bracket winners qualify for Spring Final, remaining teams proceed to Spring Showdown. Map pool: Mirage, Inferno, Nuke, Overpass, Vertigo, Ancient, Anubis.
Tournament Brackets
Group A: Heroic – Evil Geniuses, Vitality – Astralis
Group B: FaZe – Complexity, Liquid – OG
Group C: G2 – BIG, NaVi – NiP
BLAST Premier Spring Group 2023 schedule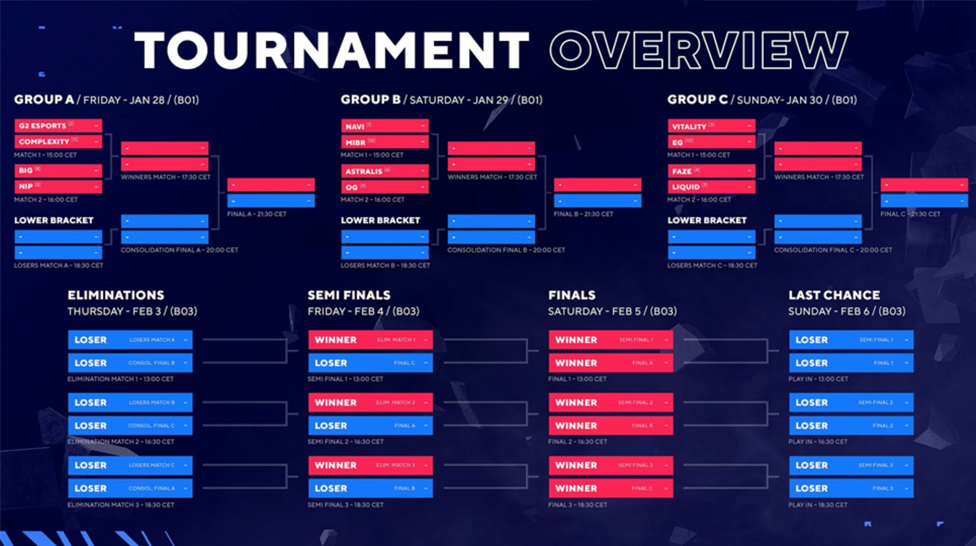 Where can you watch BLAST Premier Spring Group 2023?
You can watch the BLAST Premiere Spring Groups 2023 on multiple streaming platforms, including YouTube and Twitch.
BLAST SG 2023 participants
Heroic vs EG
Last season crowned Heroic and cemented the team at the top of the HLTV ranking. The victory at IEM Rio Major 2022 showed everyone who the new Heroic are. The victory at BLAST Premier Fall Final 2022 confirmed the champion title. Great successes and the best results in the team's history inspire every player, and cybersport.io is confident that Heroic is one of the main contenders for victory.
Star player Martin stavn Lund scored 1.14 ratings over the past year and he will definitely not lose his fire and good form. CadiaN is a stable basis for the team, which will not make serious mistakes and everything will depend on TeSeS's game. Soon Heroic will face EG.
Evil Geniuses are in a difficult situation. CeRq left the team, and the news of an unspecified new player does not guarantee any results. This means no one knows in what form EG will appear in the tournament and what success they can achieve. 12th-14th place at IEM Rio Major disappointed all fans and spectators. The uncertainty and instability of the team create pressure for HexT and autimatic. Players will not be able to show their potential at BLAST Spring Groups 2023.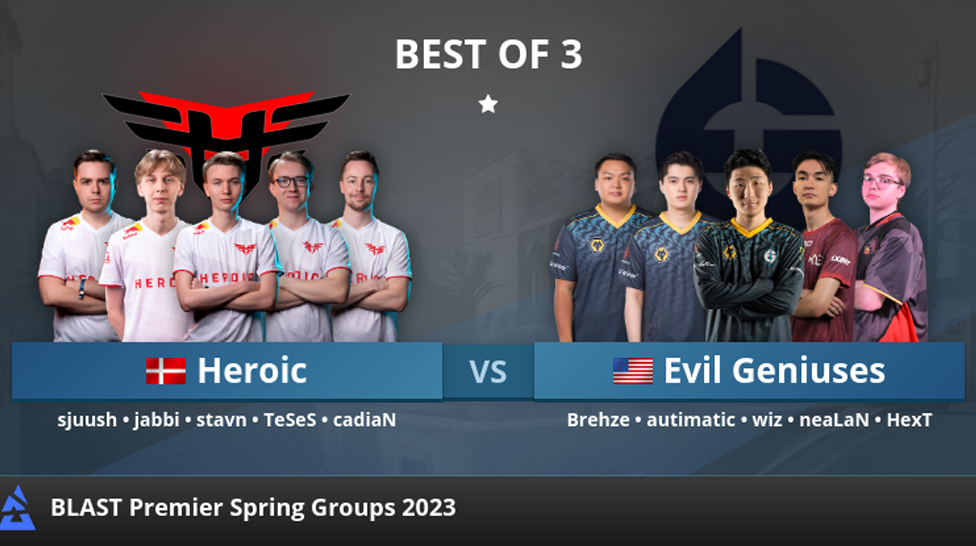 Vitality vs Astralis
Vitality has been gathering its legendary line-up for a year, but we are still looking for good results. Strange situation. The team has ZywOo, who is a top star with a 1.26 rating, Spinx, with a 1.12 rating. Good roster, but bad team play. The team has a lot of hopes for the Israeli shooter, because everyone agrees that he has great potential. But making it your only chance to win is a failure. We think that the team will be disappointed this season and after that there will be many changes in the roster again. Now the team cannot show a high level at BLAST Spring Groups. 
Soon Heroic will face Astralis. The return of the legend took place, but is it justified? device returned to T1, but what can we expect from it now? Their first performance after his return was at CCT Central Europe Series 4, where he received a 1.26 rating. The main question is, will he be able to play well with this team consistently? In addition, Buzz feels much pressure on himself among the successful, well-known team members. There is no need to put high expectations on this team, but they will be able to show competition. We expect Astralis' lack of chemistry to offset Vitality's often slow start in tournaments.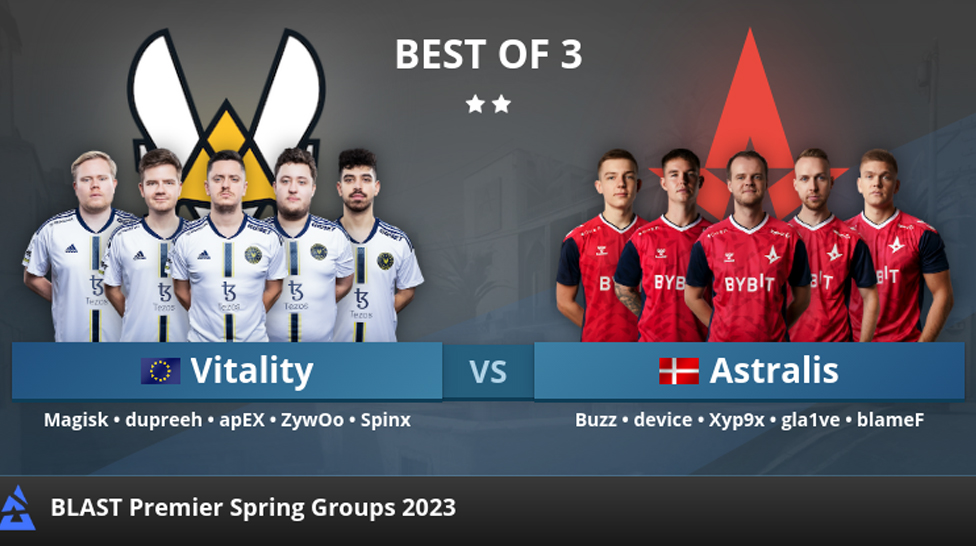 FaZe Clan vs Complexity
FaZe has been a stable team and has always shown intense competition, but poor results at the end of 2022 left an air of uncertainty. Four team members are in the top 13 best players in 2022, but the end of the year brought a lot of difficulties and problems to the team. Despite this, the team won IEM Katowice, IEM Cologne, and PGL Antwerp Major, which shows a high preparation level. At this tournament, you should expect this team's success because broky, ropz, and Twistzz are the most vital trio of the last season, which the whole Counter-Strike fell in love. 
Their first rivals are Complexity Gaming. After losing the qualifiers for the IEM Rio Major, this team suffered many setbacks. At the same time, CG showed great potential in various American tournaments. hallzerk and floppy averaged 1.07 ratings last season. Don't expect too much from this team, but we hope they can put on a nice game and compete with their chemistry. We are 100% sure this is a minor obstacle for FaZe, which they will pass without problems.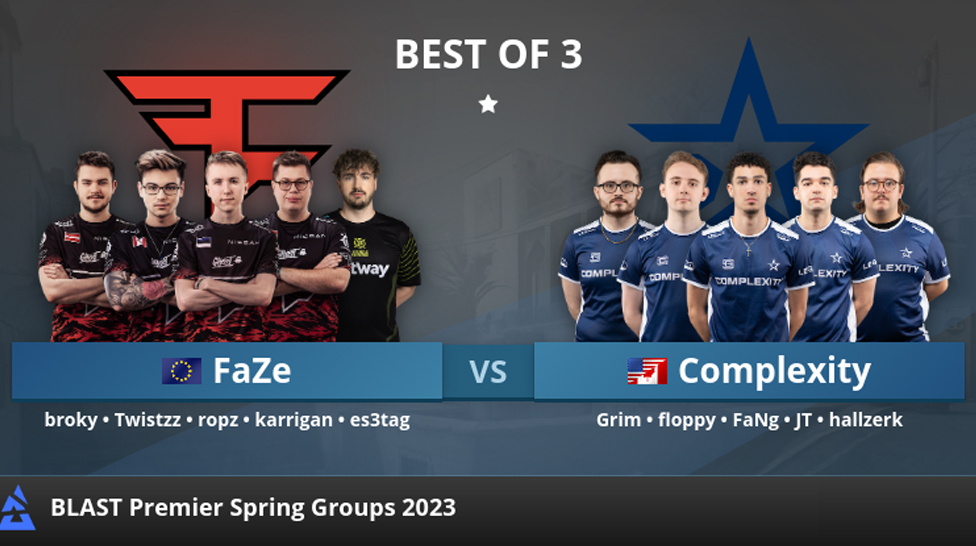 Team Liquid vs OG
Can Liquid keep up the pace they showed last season? Currently, the team is in perfect shape and has every chance of winning this tournament. This team is okay with chemistry and individual play. The NAF scored a 1.08 rating in three months, which is very much in line with the team's good form. YEKINDAR has released its 1.11 rating and hopes that it will show its influence during the games. EliGe could be the catalyst for a quick victory thanks to his current best form.
Team Liquid's first rivals are OG. OG has a personal motivation for this tournament. Close wins against Heroic and Vitality gave the team a huge boost. OG has shown they can get out of the most challenging situations against the best players. The team's primary motivation is revenge for the defeat at BLAST Premier World Final 2022 in the semi-finals against Team Liquid.
Over the past three months, degster and flameZ have taken the lead with ratings of 1.18 and 1.07. Good team form and personal motivation will create a huge explosion of emotions during the match. If they defeat Team Liquid, OG will become the tournament's favorite and can claim 1-3 place.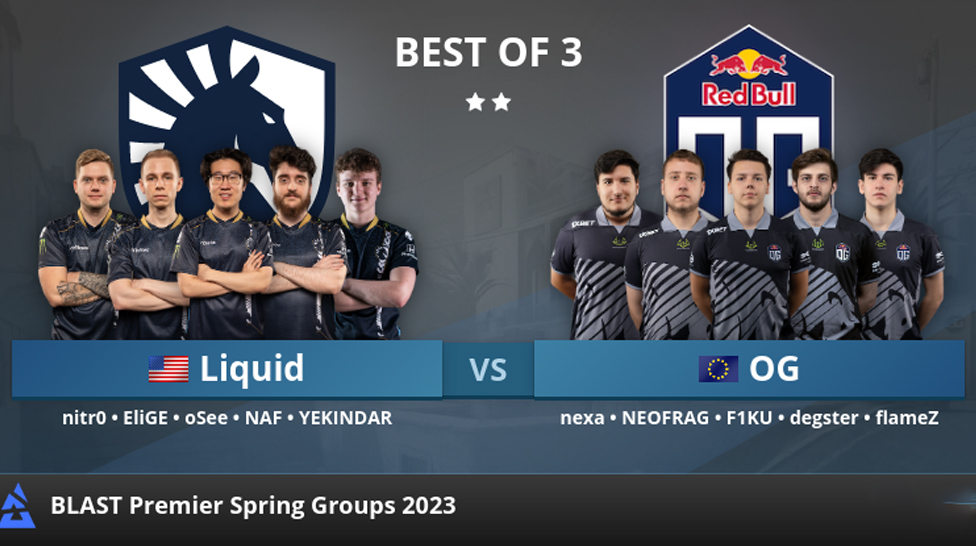 G2 eSports vs BIG team
G2 has been fighting for the top spot all last year. For this, they were rewarded with a victory at BLAST Premier World Final 2022. Such a victory was a huge motivation for the team after an unstable year. The constant reshuffles and bad chemistry of the team brought down a lot of criticism from analysts who foreshadowed the defeat of this team. m0NESY scored 1.23 in three months and ranked 7th in the HLTV rankings. NiKo, with a 1.18 rating and a significant impact on the team should do well in this tournament. HooXi lived up to all expectations, and the team will start the tournament with good chemistry and team spirit. The new player gained credibility in G2 and is ready to show his experience and potential during matches.
Their opponents in the first round will be BIG. The main question is, will BIG surprise us in any way? Their best performance at Elisa Masters Espoo 2022 put them in second place behind Fnatic, but against a much lower caliber opponent, so not much can be learned from that. Exiting the IEM Rio Major 2022 Challengers Stage in 3rd-5th place meant good results, but the loss of each of the three winners in the next stage forced them to exit the IEM Rio Major 2022 effectively. At the moment, this team shows unstable matches, and you should not expect huge success from them. We think G2 will win, but we expect a very interesting matchup against BIG.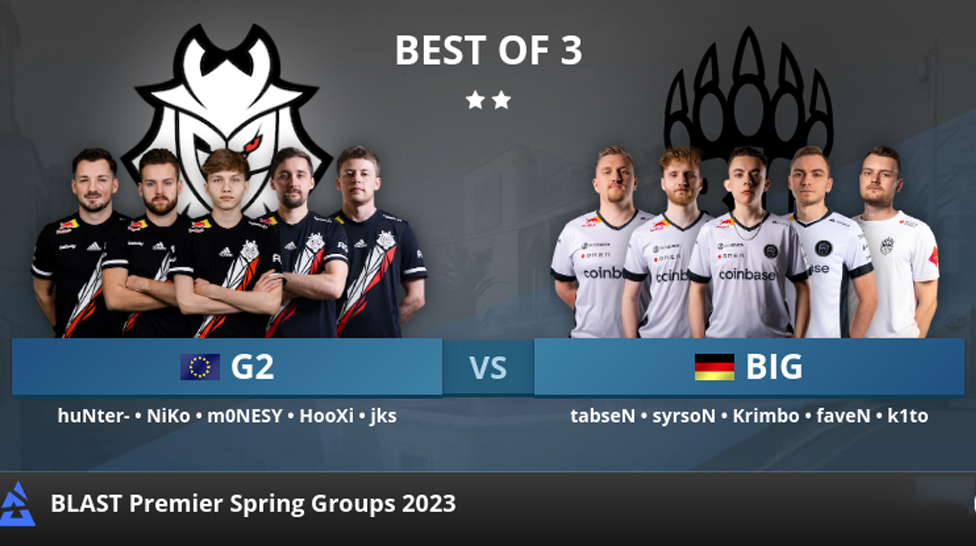 Natus Vincere vs Ninjas in Pyjamas
In retrospect, the end of the year for Na'Vi was not good. The loss in the IEM Rio Major 2022 quarter-finals to hometown heroes FURIA started a lousy form that continued into BLAST Premier Fall Final 2022, where the 5th-6th place was lost to Liquid at BLAST Premier World Final 2022. Alexander s1mple Kostylev looks to improve on his recent 1.14 average rating, which is relatively low for his standards, while Denis electroNic Sharipov will need to improve his level. Switch of Andrey npl Kukharsky instead of Viktor sdy Orudzhev was expected, but we don't know what to expect from him.
On January 21, NaVi will meet against NiP. What can headtr1ck show? Finally, NiP has a man who can subdue his old friends in Na'Vi. Daniil headtr1ck Valitov has an average rating of 1.39 over the last three months, but obviously against much worse opponents, so only time will tell how he performs against the first tier. NiP recently beat Na'Vi at BLAST Premier Fall Final 2022, but a loss to FaZe in the semi-finals made them regret their 3rd-4th place finish and what could have been. 
Alexib hopes to implement his system with the new AWPer, and that NiP can turn into a title contender. We expect NaVi to be the winner of this matchup. Both teams have updated the roster with players from the NaVi academy, but the Ukrainian team already knows how to adapt a new player to the system.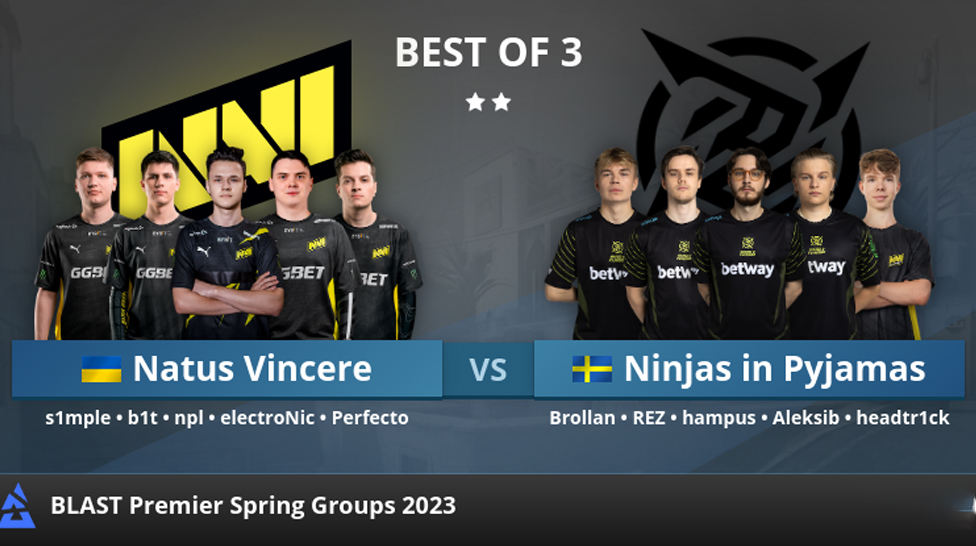 Who won CS:GO BLAST Premier Spring Group 2022?
The winners of BLAST Spring Groups 2022 are FaZe, OG and Vitality. At the moment, Vitality looks "frozen", and very close to disappointment in this tournament. The organization has not been able to realize its "legendary roster" for a year now, and the pressure on the team is only growing. OG and FaZe look confident and have great chances to make it during Playoffs. It is expected that FaZe will be able to show a perfect result, as they have some of the best chemistry among T1 teams. 
Summary
Our top favorites at BLAST Spring Groups 2023 are FaZe, NaVi and Heroic. These teams can show a beautiful strong game and easily qualify for the Playoffs. It is fascinating how new players adapt to the rosters, and especially npl. Write in the comments which team is your favorite and what do you expect from this tournament? Share your experience with Cyber-sport.io. Subscribe and follow the latest eSports news!