Dota 2 is a very specific game, every micro-moment can determine the match's outcome. Any wrongly bought artifact can play against you, not help you. That's why you need to know how to buy artifacts to finish matches with minimal mistakes. This tutorial will show you how to develop Hero Builds that you can distribute to your friends and Dota 2 gamers all around the globe. Hero Builds include instructive data such as item selections, skill order, and strategies. Therefore, Cyber-sport.io unhides the best steps to make the correct item build for a 100% win rate. Let's roll!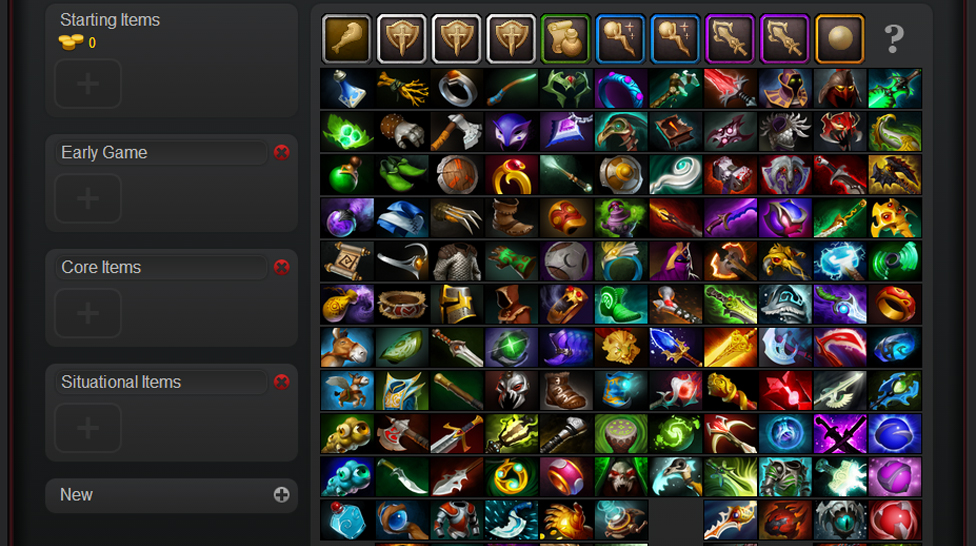 Early game
Regarding the choice of items - you have to buy artifacts that will help you fight or farm (exp or gold). Everything will depend on the hero and your role in competitive games. Carry hero needs artifacts for competent farming and speedy game completion.
Mid-hero, in present-day meta, must be "game rusher". At the same time, he should not neglect gold mining. As a rule, he should have items that will allow him to do so. Start with a couple of Bracers or Null Talismans, do not ignore these items, no matter who you play. And then buy items that will help you through the game to kill and farm.
Offlaners should help to fight at the early game phase. For me, it can be Dawnbreaker with AgS or Earthshaker with Blink Dagger.
Position 4 supports should try to get at least some items. Usually, they get their earnings in fights. Try to choose team items so they can gain value either through auras (Vladimir's Offering, Medallion of Courage,  Pipe of Insight). Position 5 warriors should be completely focused on wards. Ideally, stack your small creep camps.
Middle game
Here a lot will depend on how the game goes on how the situation went on different lines. Carry hero, by this point, should have at least one good item that enhances his potential either in combat or farming: BKB, Blink Dagger, Skull Basher, Desolator, Satanic, etc. That is, gradually prepare for mass fights and pushing.
Mid-hero, by this point, should also have 1-2 strong items. For example, Witch Blade, Orchid, Maelstrom, BM, Kaya, etc. Depending on your hero. Offlaners, having ensured themselves the ability to break into fights, should concentrate on command items, but expensive and robust. For instance, Cuirass, Pipe of Insight, Crimson Guard, Lotus Orb, etc.
As for support heroes - pos-5 continues to place wards. Pos-4, if everything is fine, can purchase items to save teammates or himself, such as Ghost Scepter, Glimmer Cape or Force Staff.
Late game
Late game is 30-35 minutes and up. It's even more difficult to predict anything here, everything will depend on the situation. Carry Hero must have slots that allow him to kill the opposing team while remaining self-sufficient. These are Super Bash, Daedalus, Rapier, Satanic, BKB, etc. That is, almost any profile item costs 5,000 or more in gold. The more of them, the better.
The same Zeus can buy some Hex, Shiva, or Orchid. Generally, be guided by what you lack to win the fight. 
We wouldn't mind a little bit of BKB, by the way. Offlaners, in addition to team items, can buy the same Hex, or something that strengthens it. For example, an improved Blink, Refresher, or Shiva's Guard. By this point, supports should provide at least some assistance. If things go well - you can build additional powerful artifacts.
Conclusion
Even though the assembly of the right things seems at first glance to be a straightforward action that everyone can do, in practice, it is only possible for some, especially if we are talking about low MMR players. If your team lacks control, you buy Hex, and if you need to split lanes, you buy Boots of Travel. That's how simple it is!
What is your favorite hero in Turbo? Share your minds with Cyber-sport.io. Subscribe and follow the latest eSports news!