In 7.32 patch, Husk hasn't received supreme buffs or nerfs, but the most important thing is that he got his magic resistance back to Berserks Blood. This buff doesn't change the hero drastically, but 25% additional magic resistance can protect Husk on early-game annoying casters, like Puck, Lich, Crystal Maiden, or Void Spirit. 
Moreover, Huskar is very good contra most melee carries popular in the 7.32 patch. His Burning Spear damage is magical, so he can easily destroy hard-armor heroes on the lane. Also, his Inner Fire disarms effect allows Husk to smash Tiny or Templar Assassin until they purchase Black King Bar. Cyber-sport.io prepared a short review of this hero below.
Skill set up
Huskar is very spell-flexible. Maxing Inner Fire is often a necessary protection tool when playing against solid melee carry auto-attacks. Level 4 Inner Fire is also an excellent spell to farm neutral and ancient creeps. Mid-players usually skill up 1x Inner Fire to deny ally creeps. The choice between maxing Burning Spear or Berserker's Blood depends entirely on your lane opponent. Sometimes you can play aggressively and max 1-4-2-1 to harass or even kill the enemy. 
Some players go 1-2-4-1 or 1-3-3-1. It's better to choose this skill build when you play against magic damage carry or mid, like Gyrocopter, Puck, Slark, or Tiny. In both cases, it often makes sense to delay ultimate ability at level 6. Huskar should initiate the first fights already with Armlet because the passive 24/7 farming strategy is the fastest and guaranteed way to lose the game.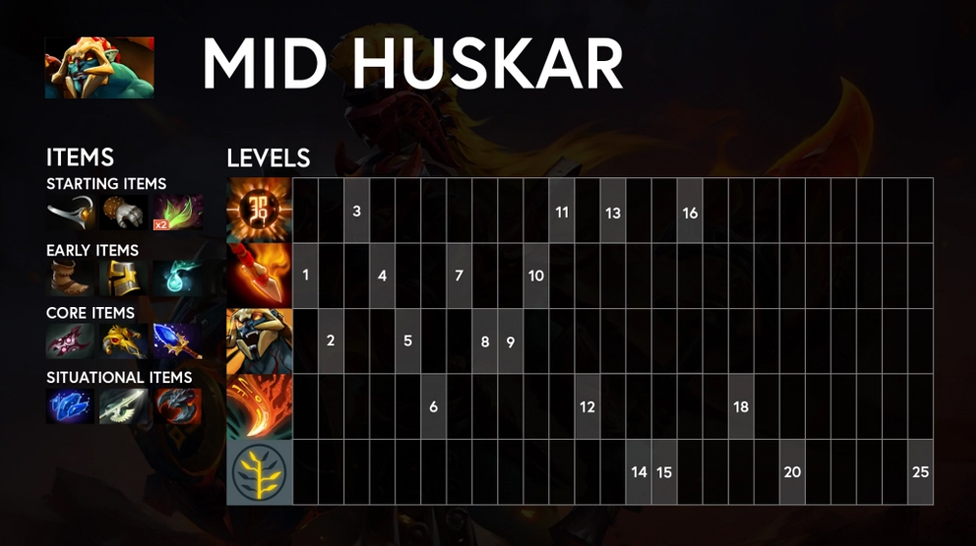 Items and artifacts
Husk item build is straightforward and understandable. Armlet is obligatory; it is too good on Huckar, who has a problem with armor and damage. Black King Bar is the second mandatory item. In particular situations, you can purchase Halberd instead of a BKB, but you need to stash it anyway. Choose a single Halberd only when the enemy has zero control or disable. After that, it is worth buying Aghanim's Scepter, which grants low-cooldown "duel", even through spell immunity. It's the most meta item on this hero right now, and it works nicely! 
Finally, it is usually worth buying Assault Cuirass. Huskar needs a lot of armor in any situation because, usually, he takes the first opponent's hits. Further, in theory, you need to purchase Satanic, but the fifth or sixth slot must be flexible and collect artifacts that help counter or avoid specific opponent abilities. Sometimes Eye of Skadi – to slow melee cores, sometimes Silver Edge – to dispel Bristleback or Phantom Assassin passives, Daedalus or MKB – to kill "fat" personages. Keep in mind Overwhelming Blink, which will allow you to initiate on-priority targets in the late game.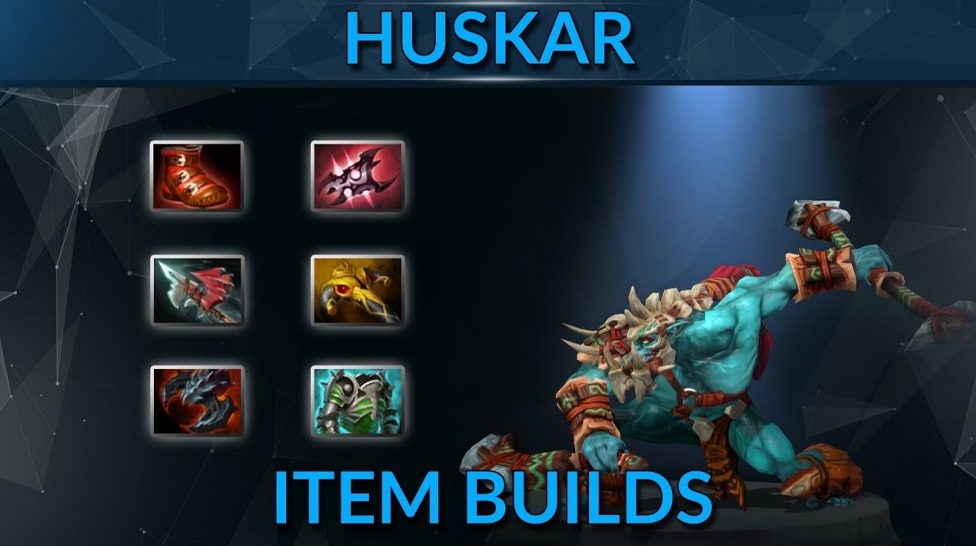 Summary
Huskar has a low indicator of Agility and Armor. Armlet solved all of these problems simultaneously. However, meta-heroes can collect Desolator or Orb of Corrosion. Solar Crest is also one of the Husk counter items. Spirit Vessel may seem like a necessary item, but often it appears too late, and, at the same time, Huskar 9-second cooldown Ultimate, which dispels any income effect.
Do you guess that Valve is going to buff Husk in the forthcoming patch? Share your minds with Cyber-sport.io. Subscribe and follow the latest eSports news!