In 2019, 4:3, defeated 16:9. However, everything changes and priorities in the game too. If before, the big argument for the superiority of the 4:3 was that the pro players preferred it, now, everything is changing. Recently, the news said that many pro players moved to full HD. What are the pluses of this solution? First thing first, models move slower, second - better visibility, obviously, 3 - better visibility in smokes, fourth - you open up tighter on short strafes. Below Cyber-sport.io we will compare and determine which choice is better, 4:3 or 16:9.
Pros and cons
The first plus is that the models move slower. By setting the resolution of 16:9, we get more compressed modeling that moves slower, and by setting 4:3, we get stretch modeling speed increases. Numerous would now say that the more comprehensive the model, the easier to hit, and it is a fact. Though this would be true if it was not followed by the fact that it becomes faster to move.
Consequently, it is necessary to move faster, more accurately shoot, and flick less often to each his own, and who is used to what. However, to facilitate the conditions by reducing the model's speed is a plus for the resolution of 16 to 9 and 4 to 3 here a little but loses. 
Second - a large angle of 16:9 has a distinct advantage over 4:3. This parameter can affect the victory in a round or the game itself. Another plus is the better view. Explaining for dummies, if you have a comprehensive resolution, 16:9, you fully have both sides of the smokes from which your opponent can go. In the case of 4:3, you have to constantly roll your camera to check every possible angle of your opponent, and that means that here, too, 16:9 is ahead of 4:3. It's better to open on the short strafe, again due to the angle of view, which gives a resolution of 16:9. There is nothing to explain here, and everything is intuitive.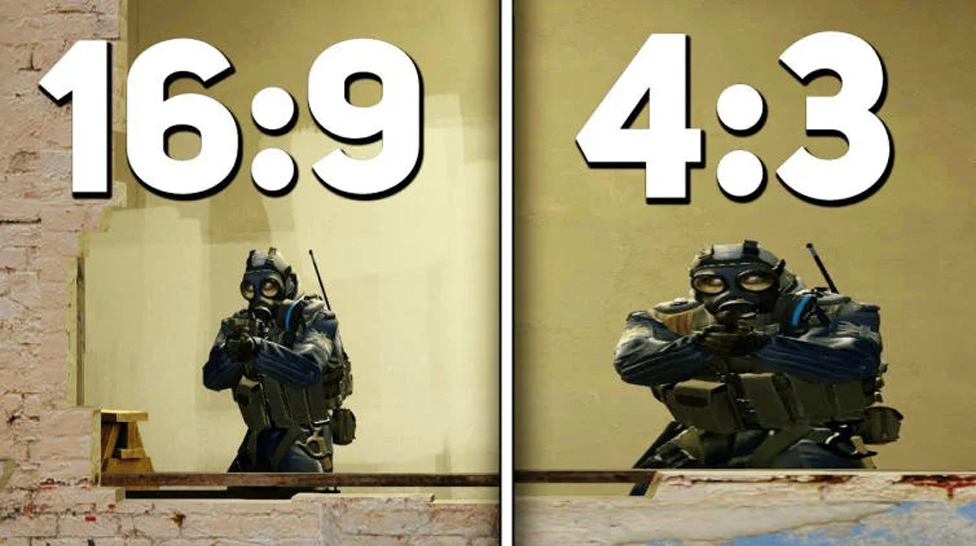 Let's go back to our criteria first - the viewing angle is higher than 16:9, so it's a plus for this resolution. Second - the picture quality at 16:9 is several times better than at 4:3. Third - the convenience of shooting is a moot point, but considering the opening on the short strafe and slowing the modeling can give preference to the same 16:9. Fourth - the popularity among pro gamers. They are beginning to gain in popularity resolution already now. The same dev1ce and Zywoo already switched to this resolution and got used to it. They can be trusted for sure.
I think the pluses can be given to 16:9. Absolutely everyone can try their hand at the 16:9 resolution. In the end, you can always go back to the good old 4:3, which was popular in 2019. The only downside, in my opinion, is the fps which will sag noticeably with the change in resolution. If your computer lets you do whatever you want, then feel free to go to 16:9. Of course, with this resolution, we can see the future of CS:GO. To sum it up, I think everyone understands that at the moment, the resolution of 16:9 is superior to 4:3 and, as if, pushes it away almost in all respects. 
Whereas most notably, it is your sense of the game. Try both and determine for yourself the best of them. What is your screen aspect ratio? Share your minds with Cyber-sport.io. Subscribe and follow the latest eSports news!