Map relief differences?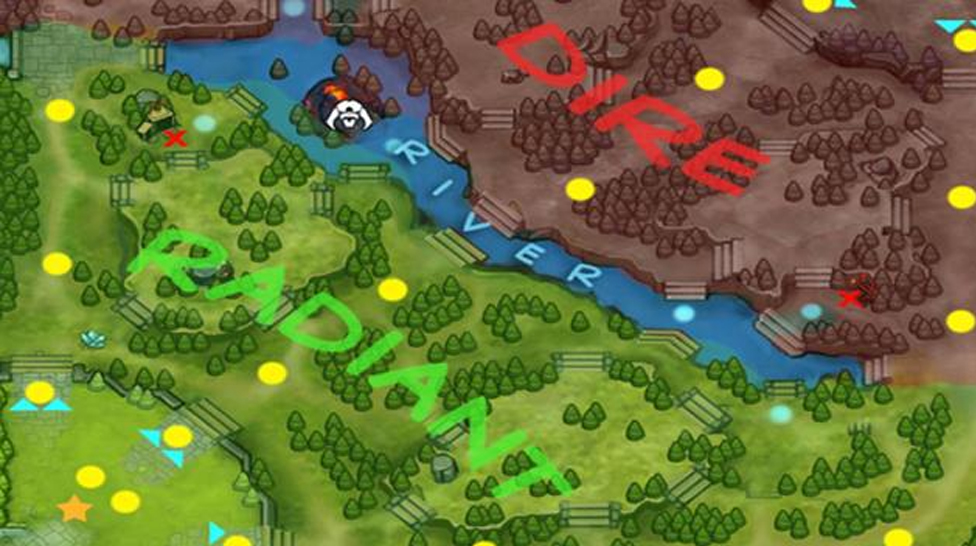 In 7.32c, Valve tried to create both sides of the map equal and coped with this task perfectly. The lower left corner of the mini-map belongs to Radiant, while the upper right corner belongs to Dire. There are very few differences in the mini-map, which gives an advantage to Radiant. So, Roshan is still slightly closer to Radiant, near the top neutral rune that grants Team Radiant more secure and fast acceptance to Aegis. 
In addition, Radiant mid-lane has more trees near T1, which allows hiding, juking, or kiting your opponent. Moreover, the top right corner on Radiant's off lane has massive oak encircled with jungle trees. Once you cut a close-in tree, you'll get an enormous location for juking or fast-tp-scroll. Perhaps that's all. Otherwise, the arrangement of the fractions is identical. 
There is an urban Dota 2 myth that Valve advisedly distorts the matchmaking system to empower community excitement to non-stop playing. The "Hidden" pool refers to a particular in-game model that prevents players from long win streaks regardless of their rank on the Matchmaking ladder. It remains an unofficial theory. According to this supposition, matchmaking algorithm machine specially select users, which deliberately throws players with bad attitude history, who ruin games, abandon or feed. That's why considered that the misbalance win rate between Radiant and Dire it's just the result of AI destructive algorithm. 
However, we missed one interesting fact, in 2019-2020, OpenAI beta test bot for Dota 2 was completed. The company developer reported on the total number of the AI ​​win-rate. OpenAI bots won 99% of pubs. OpenAI bots test in approximately 43000 matches. AI ​​win-rate was 99% - with 7200 victories, he lost only 42 times, and there is no correlation whether OpenAI plays in Radiant or Dire team. So, the "Hidden pool" version seems implausible and questionable.
Radiant advantages exist in Competitive Dota?
The misbalance effect between Radiant and Dire mitigates in Competitive Dota owing to great team coordination and Capitan's mode. Before the draft starts, both squads know which side they will play and may adjust the pick stage. Whilst Radiant has the privilege to oversee Roshan pit and, perhaps, better ward placements, Dire has better positions to stack jungle creep camps. Despite Radiant's top, hard camp is in an uncomfortable spot. Professional players exploit Dire's stratagems, as well as Radiant's, instead of ordinary players, who rely on statistics. Therefore, the drafting stage is the only tactical step to confuse your opponent about your game plans. 
What is the standard win rate in Dota 2?
The win-rate index that approaches 50% is considered normal. You can check your profile on Dotabuff, which accumulates the overall win rate for Dire and Radiant sides, for all heroes played, and other interesting statistics that will help you fix weaknesses and improve your strengths.
Win-rate index calculated by the formula: Win-rate = wins/total number of matches played (%)
Dota 2 win-rate system is far from perfect. However, even in a system with zero problems, mass players would be close to a 50% win-rate index because this is the point of selecting users by skill. Therefore, if you want to win more, you must practice and learn "How to" guides to play better.