The use of grenades is crucial in Counter-Strike. CS:GO newbies sometimes concentrate more on learning weapons than supporting items. Knowing when and when to deploy grenades may have a significant influence on a round and perhaps help your team win, even if knowing weaponry and the ideal times to buy them is undoubtedly vital. The outcome of the whole round might be altered by a single nade you throw at the ideal moment, turning it around and making it practically winnable for your team. Knowing how to throw it accurately and knowing when to utilize your nade will suffice. So. let's discuss this topic together with Cyber-sport.io.
Types of grenades in CS:GO
What is every type of grenade used for? We talk about such elementary things to soap the basis. Therefore, you will have something to think about.
Why do we need a flashbang?
This type of grenade gives us the ability to take a position and make an open frag, as well as the opportunity to save yourself or your mate and protect the bombsight from the push. The option to make a retake and defuse the bomb, making a fake attack to "trick" opponents.
Why do we need HE grenade?
This nade takes damage to the opponent. make the opponent leave the position. HE grants us the ability to create a smoke curtain from the explosion and use it. Using an explosive wave to throw away the weapon, which lies on the floor, also here.
Why do we need Moley?
This type of grenade can stop the enemy attack, cut off the enemy's position and make the enemy leave his position. Moley nade also prevents the bomb defuse and creates a wall of fire for a safe going through a position where the enemy can sit. The ability to block default smoke is also Moley option.
Why do we need smoke?
Here is a list of pros: the ability to stop the enemy attack, to cut off the visibility of the opponent's position and the option to put out the fire, ninja-defuse skill. One-way smoke to fool the opponent, it's also this grenade priority.
Why do we need Decoy?
Decoy is often used as a fake flashbang to fool the opponent. The opponent thinks that you threw a flash and turns around. At this moment, you start an attack when an opponent stands back to you or looks down. Many players use Decoy to create a false attack on another bombsite, but this effect lasts only a few seconds.
How to use grenades in CS:GO
If I had a smoke now, I could defuse the bomb. How often did you think so? The ally asks for your help or to throw the flashbang, but you don't have it. That is the reason for this rule. When you use a grenade unconsciously, you lose a chance to use a grenade and get a significant advantage. Use grenades only for a specific task. Before the throw, ask yourself why I am throwing this grenade now, and give yourself an answer.
It is advisable to learn 1-2 grenades for the 1st game session, practice it and try it in practice in a real game. When you know 5-6 grenades in a row, it seems you remembered and learned everything, but after 30 minutes, you will not be able to remember even 2. Download the popular YPRAC map. On this map, you can learn all grenades on each map. I will repeat it, I only know some of the grenades in one session.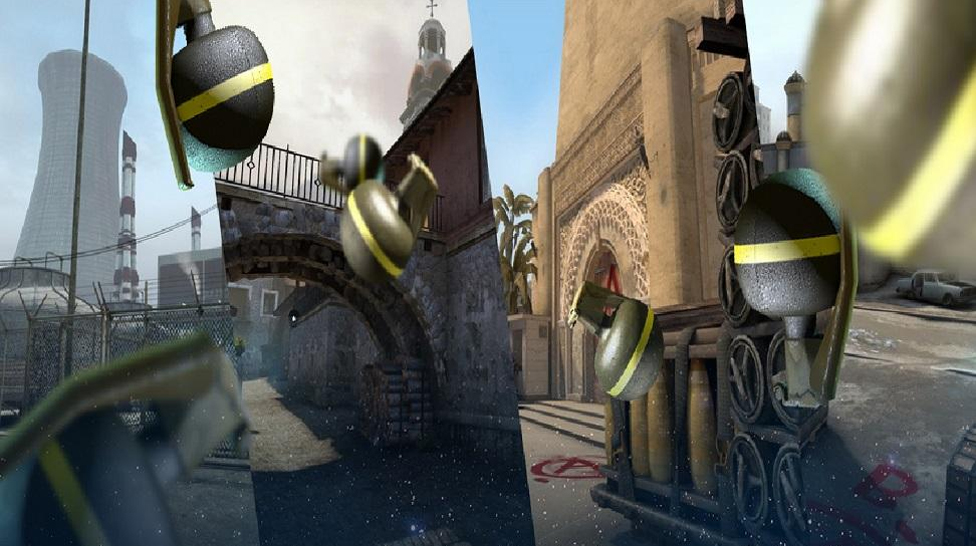 How to use flashbangs in CS:GO
Always use the timing of the flashbang. Often players throw a flash, and the enemy sees a flying grenade for a couple of seconds and turns away. Use the correct timings, and use ricochet from textures. It would help if you made such a throw that a grenade appeared on the enemy screen for no more than 0.5 seconds. Thus, your grenade will not be used in vain, and you will not waste money.
Often players interfere with their allies. Someone wants to take a position, and the partner throws smoke there. The player looks at the enemy's position, and the ally flashbang lands in front of him. There's no need to interfere with your allies. Here is the communication for this. That is a guaranteed competent game if your team works as a single mechanism.
Decoy is a slightly strange thing, right? Can you come up with a couple of new functions for this grenade? Write about this in the comments. Share your experience with Cyber-sport.io. Subscribe and follow the latest eSports news!