Snakeskin combinations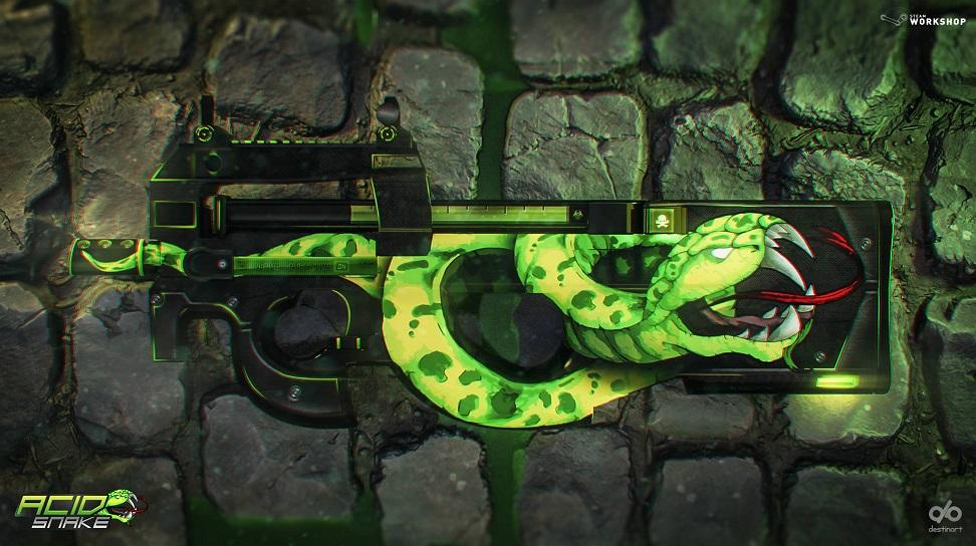 Gloves Hydra Emerald and flip knife. On the gloves themselves, there are four intertwined green snakes, the bend of the green blade resembles that same cold-blooded amphibian. This combination costs about $600-700. The next combination is slightly cheaper than the previous one. Minimal Wear hydra "rattlesnake" gloves and Navaja African mesh knife. The whole combination costs about $300.
AK-47 Fire Serpent
The machine gun case is decorated with the image of a green snake from the mythology of the Mayan Indians. The mythical creature is depicted surrounded by gray-blue thunderclouds. The stock and handguard are made of wood, and the handle is painted solid brown. That is the only AK-47 that can be classified as a snake theme, but its price is too high. This item costs from $600 to many thousands of dollars. Players say that Valve doesn't add new snake-themed AK-47s because they don't want the Firewyrm to lose its high price and uniqueness.
M4A1-S Golden coil
That is a gorgeous unique skin that fits in with the snake theme. The price of this skin is much lower than the AK-47. This item costs between $90 and $400. There are no more options for M4A4 or M4A1-S. AWP: there are many snake-themed skins for this sniper rifle. "Tree Viper", "Viper", "Snake Skin", and "Medusa" - there is an assortment from which you can choose.
Deagle Emerald Jörmungandr
That is a discontinued option for the serpentine inverter but expensive - $400, although a year ago, it was $120. Aug Fiery Jormungandr is another representative of snake-themed skins. The price is about the same as Deagle Emerald Jormungandr.
Why are there so few alternatives?
In narrowly focused skin themes, Snake Skins take first place in terms of rarity. Very few of them compared to other inverter themes, such as the dragon theme. Why is that? Why such high prices? Perhaps this is in great demand among the players. Maybe this is the influence of Operation Hydra. After the release of this operation, snake-themed skins increased in price.
Continuation of the snake theme
M249 Emerald Venom Bite looks very good, and its price is also low. The words that the snake theme is costly turn into a myth, but do not rush. MAG10 Hot Snakes - minimal condition. The body of the submachine gun is adorned with an animalistic pattern imitating snake skin and partially complemented by a scrollwork ornament. The custom is made in golden brown colors. Very nice price, but its price is not happy. $700 is too expensive for such a skin.
MP9 Hydra
The body of the submachine gun is adorned with a geometric pattern in bright shades of green and a black image of four snakes. The handle is spray-painted with the silhouette of a snake's tail using bright green spray paint. Currently, MP9 Hydra belongs to medium popularity skins.