Match lineups
Outsiders (VP): Ramzes666, Gpk, DM, Yamich, Xakoda.   
NaVi: V-Tune, No[o]ne-, Laise, Swedenstrong, Solo.
Professional commentator and analyst Maelstorm, before the match started, gave craft predictions that defined this rivalry: 
The Outsiders are a huge upside contender. Almost all analysts and bookmakers gave the edge to the Outsiders. But with a game like this, NaVi could easily shut them down. Blow a gpk- on the mid, make a couple of gangs on RAMZES666 when he's farming creeps. In general, everything as they like, playing through strong lines. The match is still interesting, but I believe in Outsiders
Game analysis
The first map of the match
Outsiders draft: Razor (Ramzes666), Marci (Yamich), Doom (DM), Queen of Pain (gpk), Disruptor (Xakoda).
Navi draft: Ember Spirit (No[o]ne), IO (Solo), Gyrocopter (V-tune), Primal Beast (swedenstrong), Death Prophet (laise).
There is nothing to say. At 32 minutes of the match, the score was 27-6. Total dominance by the Outsiders and poor play by Ukrainians. NaVi's heroes weren't bad, but Outsiders just killed No[o]ne and laise one by one. Because of this Razor became "immortal" and just went around killing NaVi heroes.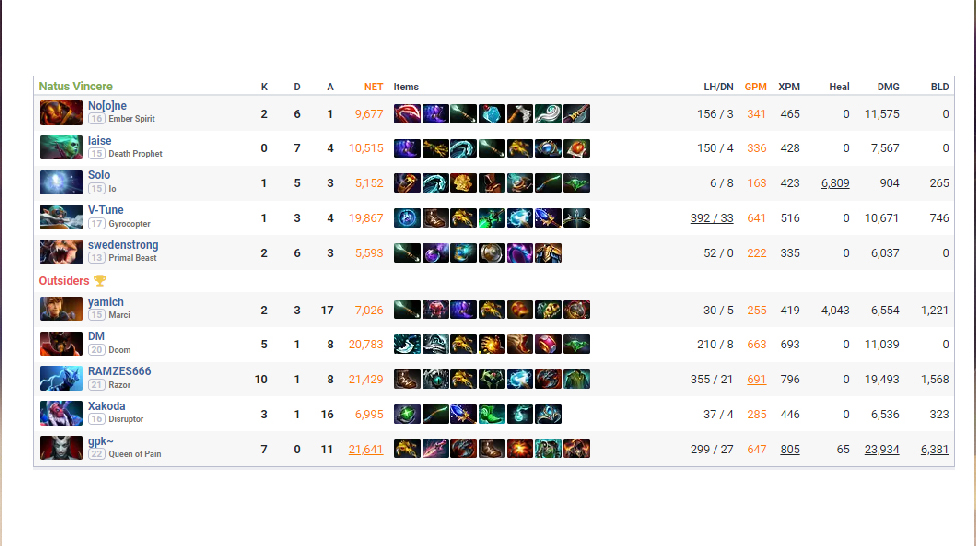 The second map of the match
Outsiders draft: Naga Siren (RAMZES666), Phoenix (Yamich ), Dragon Knight  (DM), Lina (gpk), Disruptor (Xakoda). 
Navi draft: Windranger (No[o]ne), Undying (Solo), Templar Assassin (V-Tune), Earthshaker (swedenstrong), Lycan (laise).
45 minutes, score 27:17. The heroes are evenly matched. It was a 50/50 game compared to the previous one. One of the keys to victory on this map was the Outsiders DM player and his play on DK. He permanently controlled Templar Assassin with Dragon Tail, that provided a crucial advantage in the final team fight. Undying is a useless hero in the late with no farm or level. And just as importantly, again, Outsiders killed Templar Assassin and Windranger a lot, and it paid off.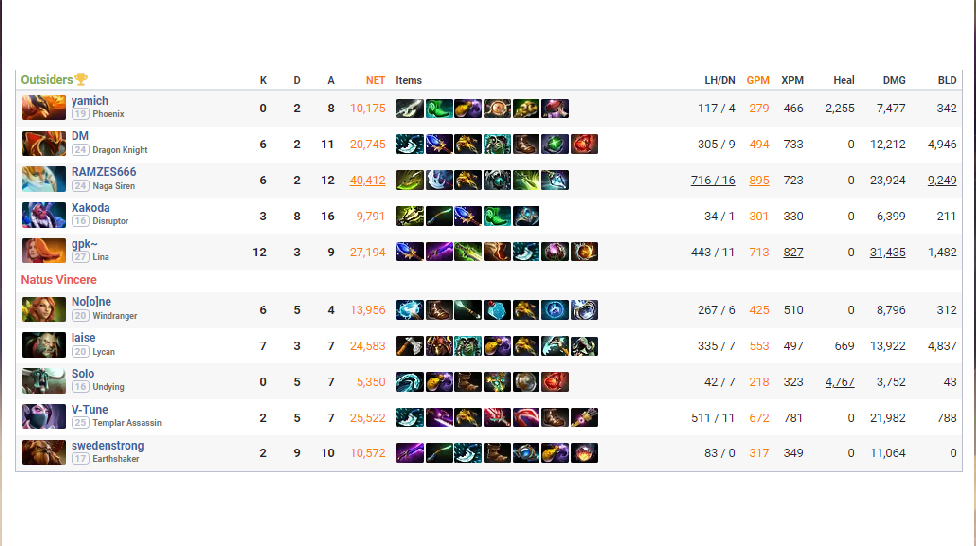 Summary
Overall, the match was completely justified by the Outsiders, who proved that they are stronger at the moment. And the Ukrainians will need to work on their mistakes and get their heads together for future victories. Nevertheless, both teams made it to the finals of the Eastern European qualifying and at least secured slots in the Last Chance stage, which will take place just before the tournament itself. And now, we know that BetBoom set to the main group stage of the International 2022.
We hope to see a rematch between these teams in the future with stronger play by both teams. Transmit your impressions on our social networks (Facebook, Twitter) and write what moments are missing in the comments. Share your experience with Cyber-sport.io. Subscribe and follow the latest eSports news!