FURIA was a "dark horse" at the last Major, although they didn't win as many expected in the end, they managed to take 4th place. Norwegian team Heroic won the IEM Rio Major 2022 semi-finals, defeating the FURIA Esports with a score of 2-1 (Inferno - 6:16, Ancient - 19:17, Nuke - 16:5). Despite the defeat, FURIA demonstrated an excellent game during Rio fest. Before the battle against GamerLegion, Yuri yuurih Boian from FURIA gave an interview. Cyber-sport.io caught the essential phrases of the Brazilian "Tec-9 master".
One game away from making it to the legend stage at probably the most important major of your career
Sure, we need to go to win this game today, because we got to the "Legends" stage in the last Major, so the next stage and the next step is a victory to get to the "Champions" stage, so everyone has confidence, today will be hard, we know what we need to do
Due to having the great points (4084) in the Regional Major Rankings 2021: North America, FURIA reached the legend stage at PGL Major Stockholm 2021, but their journey ended in the quarterfinals; the team lost to Gambit Esports with a score of 2-0, and Yuri was still able to take a step forward, but only one to the semifinals.
Looking at FURIA, when we first saw saffee and drop come into the team, it wasn't easy for you guys to change players, but now we're seeing development, saffee looking good at times, but it's still you, in case KSCERATO, who are the ones doing the heavy lifting, putting up the big numbers, do you still feel like you guys are the best players in the team, in terms of you've got more to give you can deliver the highest performance?
Sure, we are together one year already, we've drop, saffee and Nicholas (Coach) and arT have more experience, so I believe that me and KSERATO, we need to do our game to help the team, help to win, and then drop" and saffee, they play a very good they can win
FURIA Esports acquire Rafael Costa from paiN Gaming on January 6th and promoted André Abreu from FURIA Academy on t 23rd August 2021. These two new players have recently joined the team and have not any hefty achievements, apart from 5th-8th places in the 2021 Major. Moreover, if we look at the statistics on HLTV, everything is not so positive for drop, as yuurih says, unlike saffee, but he also has a stat drop. In your opinion, who is the best player from this Brazilian team?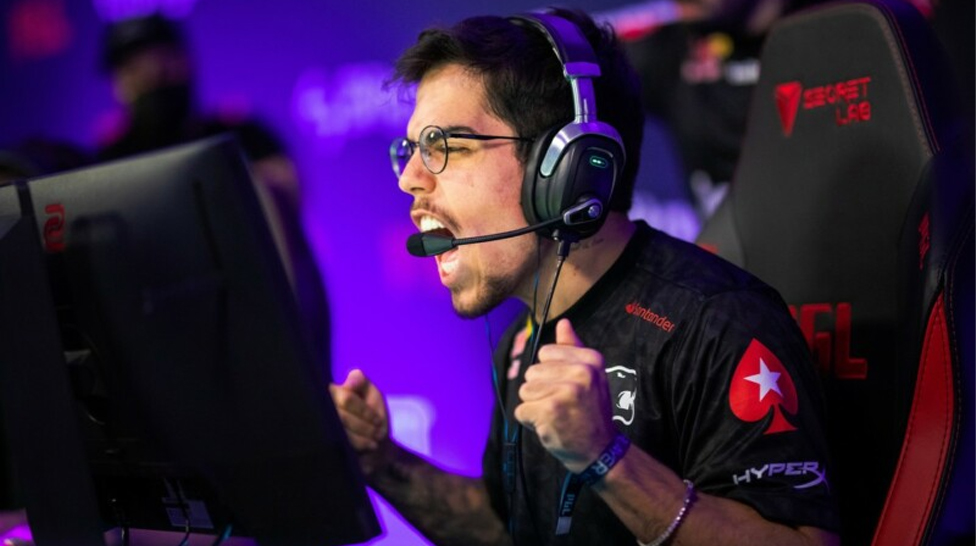 A lot of South American teams have not done so well on that stage even with the crowd behind them, how is it for you guys, do you see it as a benefit, or do you see it as more pressure?
Not pressure, I think it's helpful for me because I know that it left just us, only us, to Brazil, so yesterday, in parallel to Cloud9, they had the game in all hands, but it happens, but I do not feel pressure at all
Considering that most of the fans were Brazilian, of course, their support was only positive for FURIA, but the stands often booed other teams, as happened with Cloud9. On top of that, the lack of booths and the fact that the screaming crowd was right behind the players' walls made it difficult for the players to hear each other, but I think that's still the fault of the organizers, don't you think so?
I've been talking to some of you guys from Furia outside of the interviews, you've been saying you've got a lot of family and friends out there. How nice is it to be able to show them here in Brazil also, I've even seen the fans they're like excited for your family and friends as well
Yes, see my family here, this is their first time here, it's an amazing feeling, I always play for them, so now they are here, they referred me, I've given my best, and they are really happy
The support is always great, especially from the families, a lot of eSports players at the beginning of their careers had problems with a lack of family understanding.
GamerLegion against standard Counter-Strike teams. They play really well in the games against FaZe Clan, Vitality, and G2, but you guys are not the normal Counter-Strike style, so do you think they will struggle to go vs. FURIA away?
I don't know, but I know they have good players they play better out together, so what I think we need to do our game, we can win against them, but they are really good
GamerLegion, like FURIA, came from the "Contenders", and in the 2nd round they were able to win Vertigo against Vitality and showed a pretty satisfactory game, but we all already know the result of this match where the Brazilian team closed the match with a score of 2:0 and Legion took the 17th -19th places.
Did you support Brazilians during Rio? Share your thoughts with Cyber-sport.io. Subscribe and follow the latest eSports news!