Viktor somedieyoung Orudzhev and Natus Vincere have declared their split ways. After a seven-month trial period, during which Ukrainians won the BLAST Premier Spring Final and 5-6th place in the BLAST Premier World Final, the player quits the team.
Therefore, npl, a former NaVi Junior player who had a lackluster debut in Abu Dhabi, split a spot on the roster with sdy. Andrii is now a regular component of the main NaVi squad. At the World Final, the 17-year-old played one map from each of NaVi's three sets versus Vitality, Heroic, and Liquid, scoring an average of 0.67.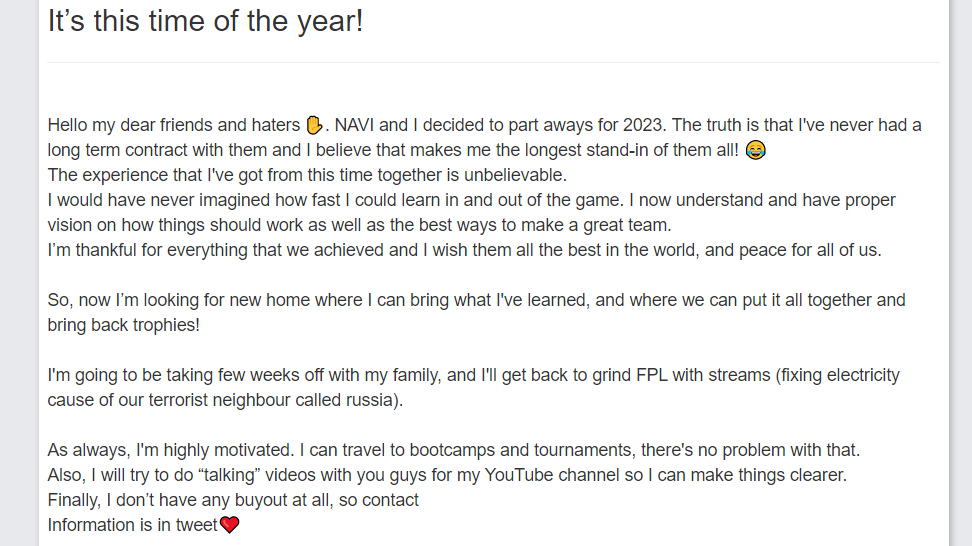 The BLAST Premier Spring Groups, which have not yet been formally announced but are anticipated to take place in the last two weeks of January, are where npl is expected to make his formal debut as a permanent squad mate. After the Play-in round of IEM Katowice concludes on February 2, Natus Vincere will subsequently participate in the competition's group stage.
Earlier, the publishing of the TOP-20 best players from the previous season continues to generate attention on HLTV. Before that, the HLTV authors provide statistics highlighting the top players and teams in various categories. HLTV showed who had the most multikills in 2022, with the well-known player s1mple coming up on TOP-1.