Overpowered spells
Sometimes Valve can nerf or empower heroes to such an extent that it's impossible to recognize what weeds they sponged to come up with that! Let's survey a few moments for Pudge. So, Meat Hook now has a static range cast range 1300. It means you shouldn't wait for 7-8 level Meat Hook to create pressure all over the map. Just now, you may "hook" your opponent under the tower on minute one and get 100% frag, or hitch enemy support to the spot unattainable to run away, especially if Pudge has additional stun or slow on the lane. Moreover, Icefrog reworked the passive Flesh Heap that now grants not only extra strength that increases each time Pudge kills enemies, but also blocks all types of damage – physical, magical pure as well during 8 seconds. 
So, Pudge can mix Rot + Flash Heap to farm lane or jungle creeps, losing zero. It's like you have inborn Battle Fury or Tinker's Laser, which not required mana with zero cooldowns. With such an ordinary combination, Pudge can overfarm approximately any classical carry hero – Anti-Mage, Sven, Medusa, Terrorblade. And wherein Pudge no requires "6-full-slots" to gang or participate in early team fights. Remember that Flash Heap doesn't neutralize damage dealt by Aphotic Shield, Defense Matrix, Resonant Pulse, and Refraction. Moreover, Gabe Newell revised Aghanim's Scepter, which now grants additional Rot damage and slow buff and range. Together with Pudge talents, which strengthen Rot's slow effect by 16% and magical damage by 100, this spell brings chaos 220 dmg/sec in the fight and rooted opponents, so they can't move or escape, even with Glimmer Cape, Aeon Disk, Force Staff or invisible abilities.  
Pros and cons
Pudge can carry to some degree. The major problem is that his skills can snowball into an opponent's team. But, if your enemy performs a split-push or fast-push strategy, it will be an unrealistic task to catch heroes cause of dozens of summons, blinks, and other types of escape options. Moreover, you need to get 7-9 early kills to carry and finish game as Pudge. Look at the drafts before pick this hero. Pudge "prefers" to play against whiny and flimsy heroes who are afraid of pure Meat Hook damage. Pudge is a tanky semi-carry, so remember to ban heroes, who counter Pudge and chose itemset according to the situation. 
You can stash strength items, like AG, Vanguard, Black King Bar or other items, which apply a strength multiplier to the damage of his ultimate. But also you can suit Heart of Tarasque, Lotar, Phase Boots, Assault Cuirass, and Basher to easily hard carry as Pudge. Make sure that you chose the correct items because it's good when your pos-1 Pudge strategy works and terrible when it isn't. Initially purchase HP-based items, Vanguard or Hood of Defense, to secure yourself from unexpected roamers or mid-hero reposition on your lane.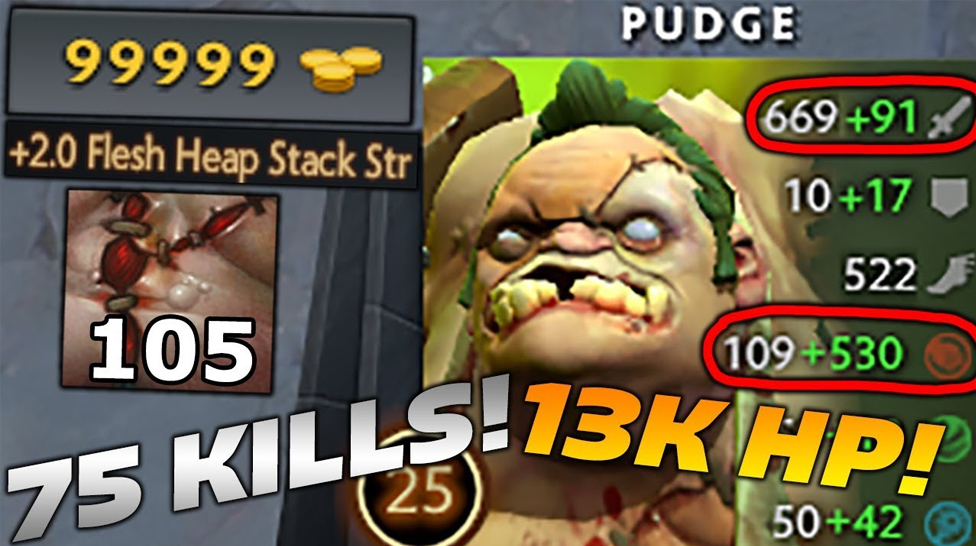 Call mates to stuck 2-3 jungle creeps and set high ground wards to secure opponents' moves on river and runes. Don't be greedy to tp scroll if you can participate in mass fights because, in the late game, Pudge won't be able to go PWP with most other hard carries. 
Summary
Recently Miroslav "Mira" Kolpakov from Team Spirit shares an opinion that Carry-Pudge was TS secret strategy, but TS showed her in scrims, and she was stolen, so now it won't surprise anyone. It seems that Pudge received an incredible upgrade in the new patch, but his potential as pos-1, especially in Competitive Dota, remains undisclosed.