Despite the fact that Valve actively combats the use of cheating programs in their games, CS:GO has a "legitimate" option to use cheat commands that can be activated using the console. We remind you that using CS:GO cheats is possible only in a local game with bots or in a lobby with your friends. Cyber-sport.io prepared some interesting facts about CS:GO cheats.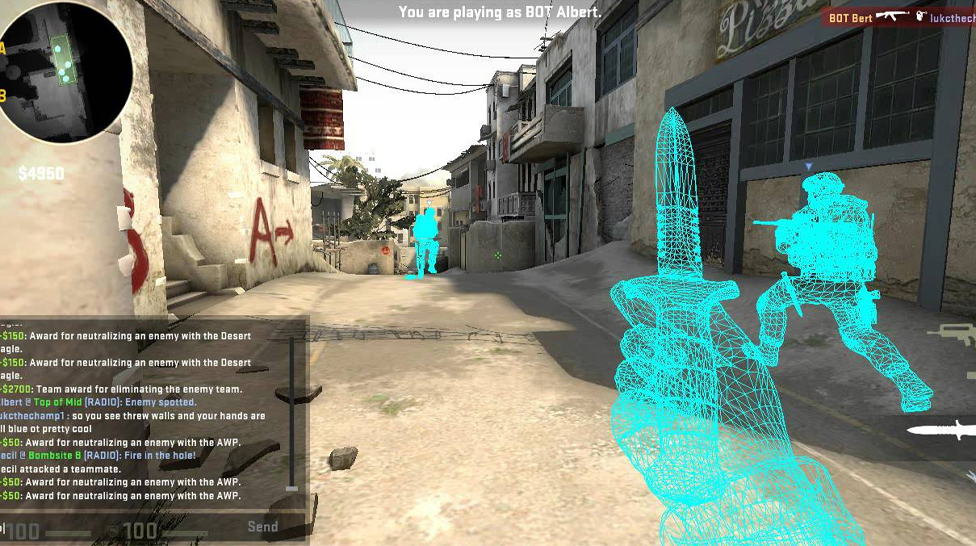 Basic commands for activating legal cheats
The developer's console opens up huge possibilities for you. You can overcome speed barriers, fly, see through walls, be invulnerable.
Wallhack
With this command, you can spy on your friends, which will give you a huge advantage. Use these commands to activate it:
r_drawothermodels 2 - extended WallHack (WH). Allows you to see other players through walls/obstacles
mat_wireframe - standard WallHack (WH). Allows you to see players and walls, which can be shot through
Godmode
This mode helps you become invulnerable to the enemy's bullets and to any visible damage. To become a terminator, which is impossible to kill, you will need to enter into the console (~) command "god". After these actions, enemies will not want to have anything to do with you.
Noclip (Flying Through Walls)
This cheat allows you to become a "superman" in CS:GO. You will be able to fly through walls and in any direction at high speed. This command works together with god mode. After activating the developer's console (~) command "noclip" you will be able to fly like a first-class fighter.
SpeedHack (SH)
This cheat allows you to move very quickly on the map, as well as on the contrary to slow down time. All you have to do to activate it is enter "host_timescale 4" and enjoy the game.
Do I get banned for using WH?
No, and here's why. Everything is done absolutely legally through the in-game console. You don't download cheats to your PC separately, and you simply can't use such a command in the official CS:GO matchmaking. Therefore, you can fan with legal WH CS:GO on your own server or on special community servers. As with the bots, as well as with real people.
Cheats in CS:GO without using the console commands that were listed above are fully legal and provided for public use by the developers of the game Counter Strike Global Offensive. For using these "advantages" a player will not receive a penalty in the form of VAC blocking, because these commands are only available on custom servers (playing with bots).
Dozens of players want to get an advantage in competitive mode or play on public servers. To do this, they use extraneous software. These are often "AIM" cheats that help in targeting or WH cheats that help in finding your enemies. The presence of one such extraneous software will increase the productivity of the player by 50-60%, but at the same time lead to blocking the account forever. Therefore, in any case, do not use this type and the game, because you spoil the game for other players and themselves with no experience and skills do not get.
Summary
In fact, there are a huge number of cheats in CS:GO console, and it will be hard to list and describe them all. Therefore, in this article, we have highlighted only the most key and practical. The rest are introduced by analogy. Cheat codes are used in different ways. Some include them to win the game (dishonestly), while others need them for training. I hope you belong to the second type of person. 
Have you ever typed cheats? Share your minds with Cyber-sport.io. Subscribe and follow the latest eSports news!