Valve is finally releasing a new CS2. And according to rumors - it's the best thing that happened to the game in all time. The Cybersport.io team has prepared for you a review of this update. Let's go!
CS2 Smoke Grenades
Well, now to what struck the most. New smoke grenades. Smoke grenades have become the fundamental tactical technique among all. Thanks to the new counter-strike 2 engines, they improved the smokes and made them dynamic. Smoke grenades now create three-dimensional objects that live a whole life. 
Now players see the same smoke regardless of their position. And smoke interacts with the environment in curious ways; for example, smoke reacts to light and fills the space. Smoke can be dispelled by shooting or grenades. In the second Counter-Strike grenades provide even more tactical options. They're even better now. Working with a unified lighting system adds even more colorfulness and realism to the game. A classy part of the update. That it will be this good, no one even expected. 
CS2 Tick Rate
Firing a weapon looks highly simple. You click your mouse button, the character fires, the target takes damage and dies. However, a lot of things are left out.
In past versions of counter-strike games calculated, changes in movement, shooting only at a specific interval. They were called ticks. And between ticks, time did not exist. The gameplay mainly was smooth, but sometimes milliseconds between a mouse click, and a tick could be decisive. That's why counter-strike 2 introduced a new tick structure. Now tick rate doesn't matter for movement and shooting. The server will record when you jumped up or looked out of cover and accurately calculate your actions between ticks. 
So, you can completely trust your eyes. That sounds just perfect. Now the game will always count the shot, but How much will this all really exist already in the new real version? 
CS2 Maps Changes
Almost in the last century, everything was different from the launch of the first CS. But Valve warned that the maps will not be changed fundamentally. They used three approaches to improvement to preserve their rich heritage.
The first is applied to reference maps, that is, classics with a proven foundation. Players will be able to appreciate the difference in gameplay between Cs and Cs2. The lighting and readability of models have been improved, but the maps have not undergone any other changes.
Next up are the enhanced maps. They use the new Source 2 lighting, including a physically accurate rendering system that creates realistic textures, light, and reflections. 
And to top it off, there are new maps. The old-school maps have been completely remade using all Source 2 tools. These tools will be available to all content-makers to make creating new maps even easier. With better lighting, player visibility, and counter-strike 2 textures, even familiar maps will feel new. Maybe their performance will still be the same, or maybe you'll have to splurge on a new PC. And, of course, updated stickers, models, and skins. It's very beautiful.
CS2 New Effects
Updated visual effects everywhere, from the interface to the gameplay of Cs2.  Improved all visual effects. Used Source 2 particle lighting systems. Created new types of behavior of water, explosions, fire, flashes from the shot, hit, air splitting bullets and more. Enhancements are not just for beauty. They convey essential game information.
Accurate sound - improved, balanced, equalized. The sounds for Counter-Strike 2 have been redesigned. Now they better convey the environment, are more distinguishable, and give more information. And that's not all. We are waiting for new updates.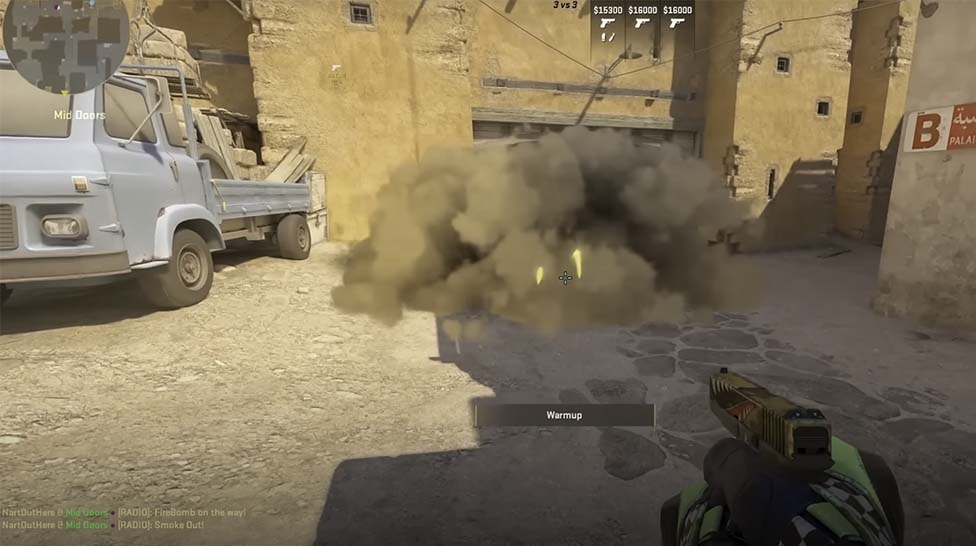 M0nesy was quick to say that the removed silencer was an imba:
I watched a video about the new CS, it's lol. Throwing grenade and shooting at the smock allows you to give you visibility through it, actually why even need it then. It's a beta test for now, so a lot of things will be fixed and it will be ready for release. The maps, textures look really cool. What about skins, I think valve are not that stupid and all skins will stay in inventory 
So, what we have: new grenade mechanics, maybe even shooting, improved sounds, also tick rate. It looks good on paper, but you must try playing it first."
Spunj noted that there are no more skyboxes, so you can use any grenades, and will fly over the entire map.
Even Yegor Markelov showed up: 
Thank you very much for the opportunity to test Cs-2. More surprises are waiting for you all in the near future! Keep your ears open and follow my social networks
"Full recoil" setting has now been added. The sight moves behind the spray. We don't know if this can be used in any way - it's not clear yet.
CS2 Rumors Release
In general, many people said they made shooting easier and the entry threshold slightly lower in Cs. Maybe because they took a lot of things from the Valorant, and in the Valorant - shooting is easier.
If you have been selected to participate in CS2 tests, you will receive a notification in the main menu of CS:GO. If you receive an invitation, select "enroll" and start the download. When the download is complete, launch CS:GO and choose the "limited test" option to play.  It is expected that CS2 will go on sale in the summer of 2023 for those who don't have CS:GO.
Summary
Interesting that the radar now shows the boundary of the noise created by the player's model. Cool, though not a new feature. This is how the release of CS 2 turned out. What do you think: Is this the best thing to happen to CS in a while, or are the rumors around the update exaggerated? Write your thoughts in the comments below this article or in our social networks (Facebook, Twitter). That's it, see you next time. Subscribe and follow the latest eSports news!