This article will teach you how to recover your deactivated Faceit account. Dozens of players face this problem, but not everyone knows the correct action algorithm and what needs to do. From 2018 to 2020, it was impossible to recover or deactivated the account. When you deleted your account during this period, you were warned by a pop-up window that your account would not be recoverable. Read this article to the end to understand what you should do and how to get your account back faster.
Start to recover an account
Log in then you need to go to this link. Indicate that you want to restore your account. Next, you must fill out a form with your personal account information. To do this, you need to specify the URL of your account or the nickname of your account, the Steam identification code. Subject - here write briefly and clearly what you want to recover deleted account.
Description
Here you need to describe your problem in detail. Please provide as much information as you need about the account, why you deleted it, and the approximate date you registered the account and when you deleted it. You should indicate the phone number to which you linked your Faceit account and email. Attach your files here to prove that this is your account—screenshots of your account, any receipts for purchases on Steam or Faceit.
Submitting an application
After that, you need to go to the email address you indicated in the application and wait for a response from Faceit employees. How much to stay? Some get a reply within a week. Someone waits one day, someone waits one month. It depends only on Faceit employees. If you have not been answered within two weeks, send another application and wait. Sooner or later, the staff will respond to you. 
The Faceit policy is now working so that if you delete your account again, then goodbye. No one will help you again. So many one-time account recovery is possible. When you receive an email, you must reply to it confirming that you want to restore your account. If you change your mind and do not need it, write that you refuse to restore your account. After that, the employee will write you a letter after the successful completion of your task.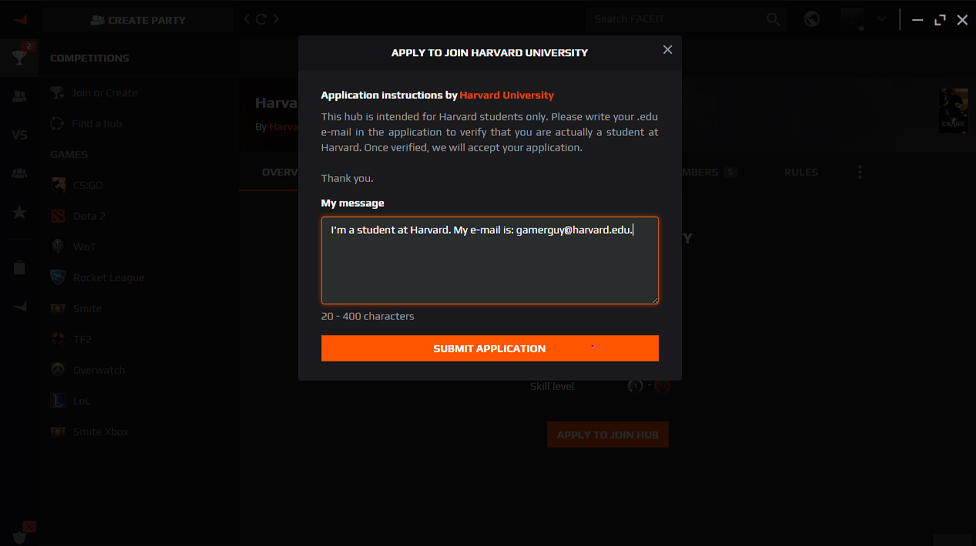 How to log in to new acc
Ask an employee about this, and he will send you a link and an email through which you will now be authorized in Faceit. You can use this link to change your password if you have forgotten it. Unfortunately, you won't be able to restore access to your account in the standard way, if you don't remember your email address, then it's better to write to the support line. They will have a conversation with you, make sure that you are the owner of the account, then you can request restoration directly through them. The entire procedure for restoring your account will take approximately one week to 1 month. 
If you did everything right, you would have to wait, and you will be able to authorize your Faceit account again. I hope this article helps you get your account back to continue playing. Share your minds over Faceit with Cyber-sport.io. Subscribe and follow the latest eSports news!