Each CS:GO player wants not solely a high rank but cool skins! How to gain the best skins in CS:GO? Open cases in CS:GO or buy them on the marketplace? First, you can participate in our GIVEAWAY and get your prize that Cyber-sport.io prepared for dedicated readers! We will have not one, but two winners with really huge prizes! Follow @farmskins and  @cyber_esprt on Twitter, like, retweet and tag your friend in the comments! 
Don't forget to subscribe on our Instagram and Facebook to survey the latest CS:GO free skin giveaways announcements, news and rumors in the field of cybersport. 
Cyber-sport.io authors analyzed all the ways that were discovered by mankind and made some conclusions below.
What are CS:GO cases?
Cases in CS:GO are containers, capsules, graffiti-covered boxes, and souvenir sets. You can get them during the game or purchase them on the Steam marketplace. Of course, each CS:GO player has opened his or her first case. And I can say with 99% certainty that you weren't happy with the prize inside.
You can open cases with a special key. You will receive a skin for your weapon whenever you open one. All skins are different and rare. In total, there are such types of skins: Consumer Grade, Industrial Grade, Mil-Spec, Restricted, Classified, Covert, and Rare Special (knife or gloves). 
The unique rarity feature in CS:GO is the StatTrak™, which counts how many kills you have made with this weapon. Accordingly, the higher the rarity of the skin, the lower the chance of it falling out. Wear Rating (Float) also affects the price. A rifle float can never be altered and won't deteriorate with time. The following hierarchy goes from up to down: Factory New, Minimal Wear, Field Tested, Well Worn and Battle-Scarred. Moreover, there are secret skins from a group of fan designers called Snakeskins.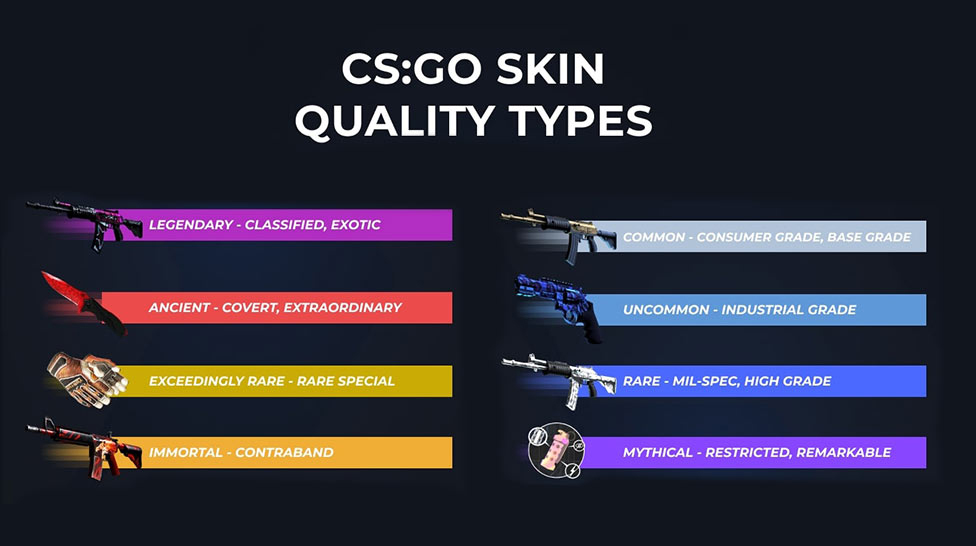 Other ways to get CS:GO skins
Numerous players weren't happy with Valve's monopoly on cases because it's almost impossible to get expensive skin. Moreover, if you want to open new cases, you need to spend a lot of wealth on the cases themselves without mentioning the keys. Previously, we have explained why cases and skins are getting more costly in CS:GO.
For ages, there have been sites where you can open cases with CS:GO skins. As a rule, these sites offer more favorable conditions, various promotions and promo codes, and a higher chance of getting awesome skin. One of the main advantages of these sites is their variety. Just imagine that only the best skins not limited to one collection can be collected in one case. You can also forget about the complete inventory of Rare blue skins after another attempt to get a knife or at least Covert skin from Valve.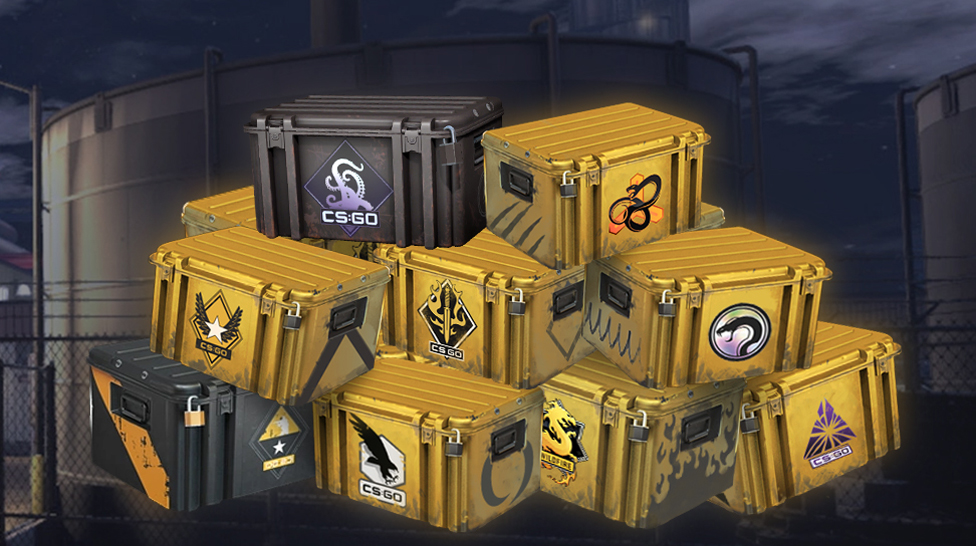 Find the skins you have ever dreamed of
What does every player want besides a high rank? Of course, cool skins! The only major issue is that no matter how many cases you spin from Valve, normal skin rarely falls. Fortunately, sites like Farmskins have been around for a donkey's time. Where can you open cases with volcanic skins? It's hard to imagine that on Steam! The first and foremost advantage of these sites is convenience. The player only has to log in via Steam and conveniently replenish the balance. It could be a credit card (Visa, MasterCard), a cryptocurrency, or any of the dozens of other payment methods available to the user. Also, players can replenish their balance even with their skins!
The second advantage I would like to highlight is diversity. The farmskins website is an excellent example of that. When you open the site, you are met with a vast selection of cases that differ not only in price&prize but also in subject matter. It could be Christmas, Halloween, or even a farewell to the Dust2 map. However, most of all, I like the option to open cases with a certain quality of weapon - Сovert, Classified or even a knife! Of course, such cases cost an arm and a leg, but the result is worth it! You can also purchase the most rated skins from the anniversary list of professional CS:GO players.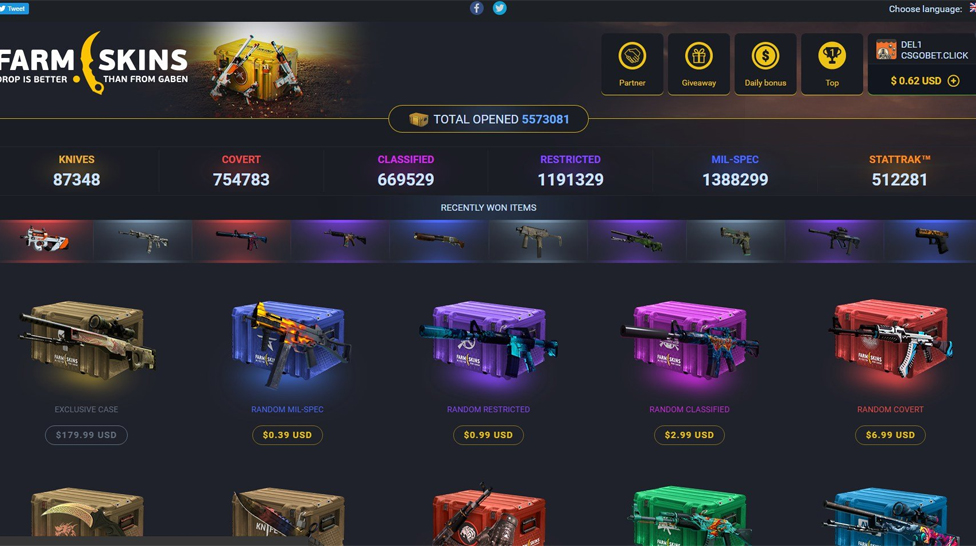 Features you won't find anywhere else
As an additional advantage, I would like to highlight various features on the site that are difficult to imagine in CS:GO. My favorite is Case Battle. You create a duel with one or more cases you want and open an account on the site that accepts the duel with the same opponent. Whoever unlocks the more expensive skins takes everything. The second feature is an upgrade feature. You can increase the value of your skin or lose it. It all depends on your greed. The more you want to increase the rate, the less chance you have to upgrade.
Giveaway time - free way to get amazing skins
Giveaway is knocking on your Christmas doors! We prepared bonuses for our dedicated readers. To participate in the challenge, you have to follow us on Twitter, Instagram, and Facebook to increase your success chances. It's recommended not to miss this opportunity because there are a lot of contests with bounties from farmskins among the subscribers.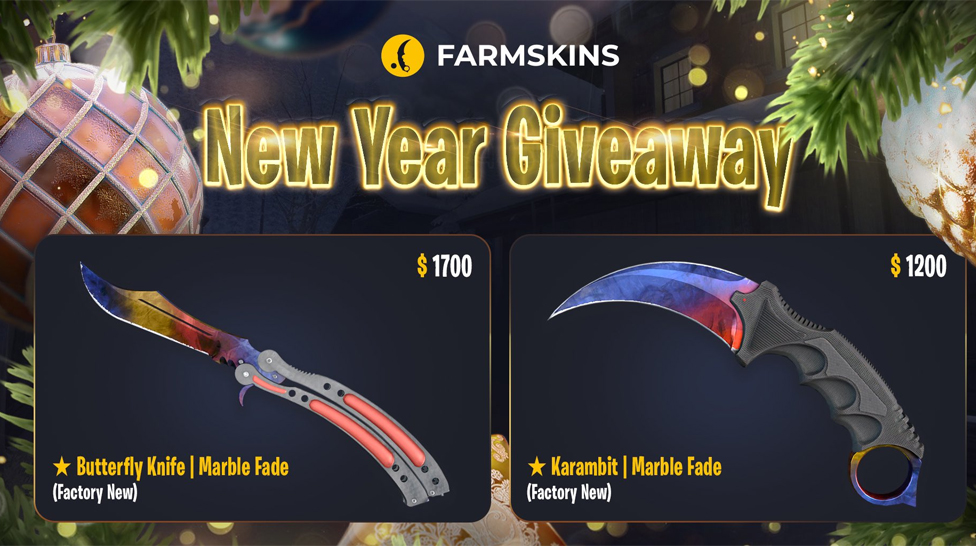 Summary
As soon as the first skins were released in 2013, players worldwide became obsessed with them. Some gamers are even willing to pay thousands of dollars to look different. We can now say that loot skins sites make it easier to obtain these skins. Cases from farmskins will make you better. This is an easy way to get the skins you have ever dreamed of. Take part in our Giveaway! Stay tuned for more advanced features and promotions! Farmskins offers a lot of attractive proposals for every customer!