Given that having precise and competent aim is one of the most crucial components of playing Jett, she is rather simple to learn. But when it comes to mastering her, she's a difficult nut to crack because of her very high skill limit. Her skills all work well together and are exceedingly difficult to match with a grass pon.  cNed continues to maintain the title of top Jett player in VALORANT in the opinion of the audience. Use the VALOROUS professional settings as the pros do.

We'll go through each of VALORANT Jett's skills in this tutorial, and we'll also provide you with all the advice you'll need to get started. You may develop the confidence and skills necessary to become a clutch machine while enjoying the wind in your hair. These VALORANT tips for beginners can help if you need a little more information about the game before facing Jett VALORANT.
HOW TO PLAY JETT LIKE A PRO IN VALORANT

Jett's passive impact must be discussed before we get into the specifics of her skills and how to utilize her in VALORANT. She naturally has a special secret talent since she is one of the most unusual Agents in the game. Jett can fly through the air with ease. Holding down the SPACE button will let you glide over the map whether you leap from a higher surface or after utilizing your Updrafts.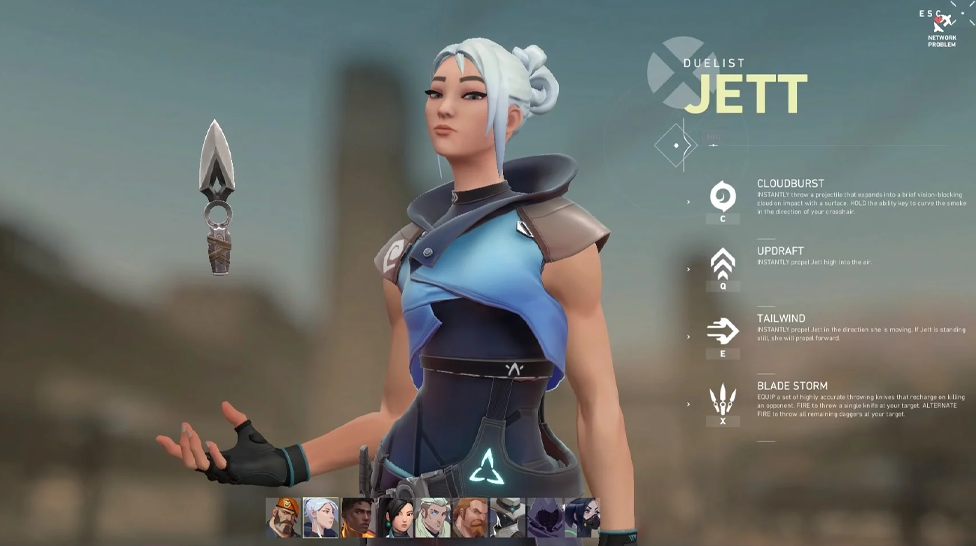 Any player that wants to play as Jett should make use of her passive, which is a very effective tool. The only fundamental advantage of her passive is the ability to avoid fall damage, although mastering and fine-tuning your motions in the air will be challenging.
Cloudburst: cost - 200, duration - 4s.
 
Jett throws a projectile that becomes a vision-obscuring fog when it collides with a surface in an instant. She has a maximum of two clouds of smoke every round, which she may throw quickly one after the other.  Even though her smokes only linger for four brief seconds, any Jett VALORANT main may use them to gain control of a situation. Your smokes will be your closest buddy, whether you use them hurl smokes to sprint into them while assaulting or to obstruct vision to flee to safety during fight.
Holding down the ability button allows you to curve your projectiles, which is one of the powerful VALORANT Jett tactics. This enables you to throw your Cloudburst from a safe distance around corners. Because it functions similarly to Guiding Light (which is described in our Skye Guide), you may wander while in control of your ability and trick the adversary.  Practice controlling your smokes since accuracy is crucial if you want to get the most out of your Cloudbursts.
Updraft: cost - 150, vertical range - 5m.
Jett lifts herself into the air with her updraft. You re-cast it to increase your height since it has two charges. Her passive is a great complement to Updraft, letting you to remain in the air for a very long time. Of course, you may launch yourself onto tall objects like high boxes, windows, or Sage's wall with her Updraft. By mixing Updraft with your sprint, you may even dash over tall barriers. When you need to swiftly move yourself and catch adversaries off guard from various angles, it works quite well.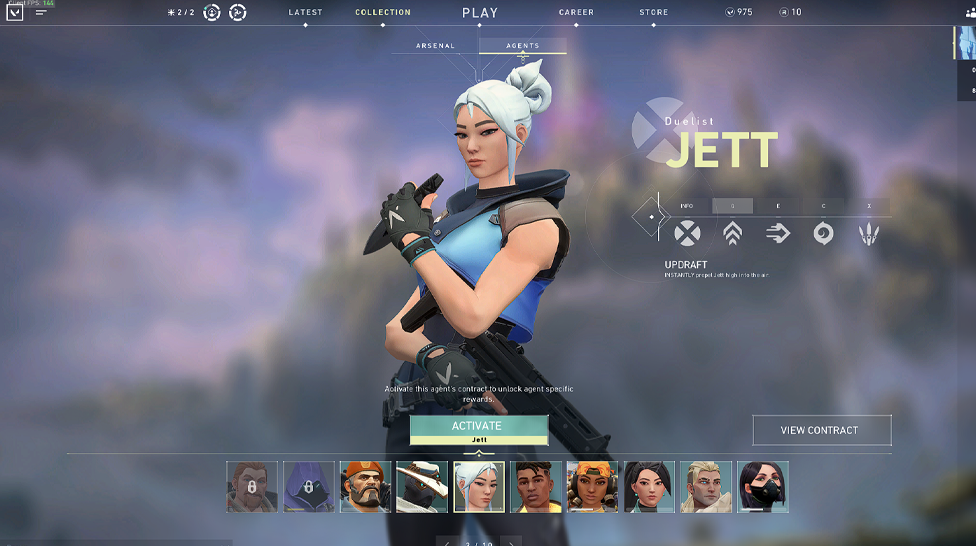 Additionally, Updraft may be employed before each round, which is quite helpful while defending, particularly when using an Operator. If necessary, you can reach useful peek locations and leap or glide down to safety. Her Updraft is an excellent scouting tool as well. To get a better look and find out where the adversaries are, you may hop over barriers and windows.
Tailwind: dash range -15m, duration - 12s, activation delay - 0.75s. 
When you use Tailwind, Jett creates a wind gust that lasts for 12 seconds and allows you to fast sprint in that direction once again. Jett rushes ahead if you are stationary or if the destination is not set. She will just lose some of her abilities if the 12s go by. You can't just double-cast E and run to safety because of the activation latency.  Make careful to pre-cast it when you're positive you'll use it to avoid wasting it.
You may use this skill up to three times every round and it regenerates after two kills or assists. Both on the ground and in the air, you may sprint. Her Updraft and Tailwind both function concurrently and do not counteract one another when cast simultaneously.
With Tailwind at your disposal, you can sprint to safety and rapidly get out of any hazardous situation. You can make clutch plays thanks to Jett's fast positioning changes and rush away from the adversary line of sight.
 
Blade Storm: gost - 7 ultimate points, damage: 50 for body shots - 150 for headshots, number of knives: 5.
Jett equips a pair of razor-sharp blades after unleashing Blade Storm. When you score a kill with a left click, you may replenish your initial supply of 5 knives. You may shoot all five of your knives at the adversary by clicking the Secondary fire button. This option doesn't refresh after a takedown, despite the fact that it's excellent for close quarters fighting and nearly always results in a kill.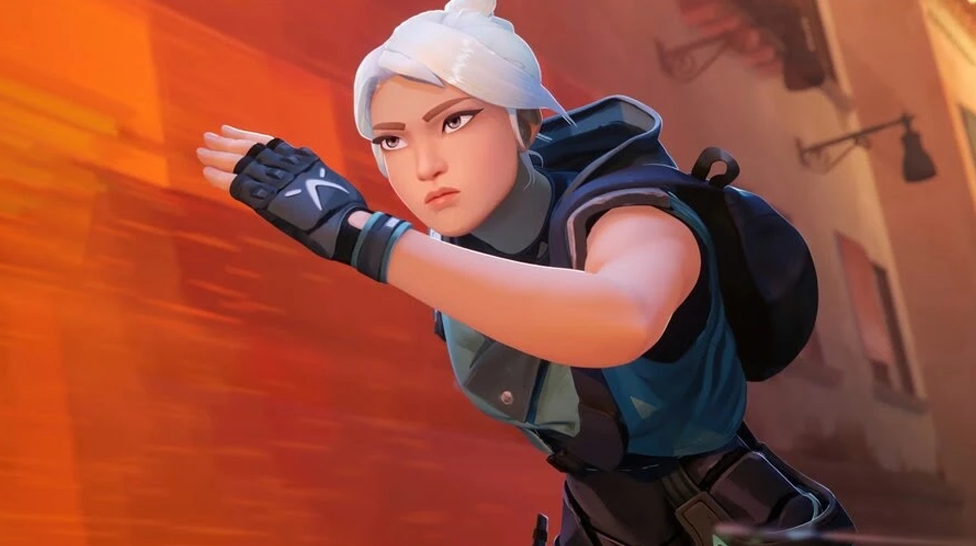 One knife to the skull causes 150 damage, compared to 50 damage per knife to the body. Therefore, getting a headshot with your sword ensures a death. Jett's accuracy suffers substantially while she is in the air or traveling quickly, but her Blade Storm more than makes up for it.
 
The lethal Jett knives VALORANT feature no recoil and 100% accuracy all the time. You'll have an edge over the opposition if you can use your ultimate in combination with Tailwind and Updraft. Additionally, unlike several other abilities in the game, Blade Storm does not have a time restriction. You are free to use your ultimate whenever you choose while alternating between using your weapon and your knives.

Since the debut of VALORANT, Jett has been at the top of the game. Jett continues to be one of the most popular duelists within the VALORANT player community. People have shown a great deal of curiosity in Jett's past and personality as the VALORANT mythology develops day by day: How old is Jett VALORANT, and how tall is Jett VALORANT?
While in the game every Agent must be the same size, Jett is the smallest Agent right now and is only in her early to mid-20s. She has her Updraft, which is fortunate for her, to make up for it. Even though Jett has been successful for as long as anybody can remember, people still find her to be enigmatic. They even go so far as to analyze what Jett says in the VALORANT trailer.
FLY TO THE TOP OF THE LADDER
One of the most adored and often used Agents in the game is Jett from VALORANT, who has been with us since the Beta. Despite the fact that she has an extremely high skill limit, her playstyle keeps the learning process interesting. She is still one of the best Agents available and is a ton of fun to play, even after having her Tailwind nerfed. There is no reason not to try Jett, even if you're just beginning started. One of the free agents you may play in VALORANT is Jett. Play on to unlock every Agent in VALORANT.