Flexible lane role
Marci is one of the best lane heroes in Dota 2. You can't stand lane against Marci properly, as she just throws you under a tower or enemies, and that's all. Marci can perform pos-5, as well as pos-4, with very various item builds and high peaks on each role. Start items Tango, Healing Salve, and double Mango are enough to keep pressure on the lane for enemy support or offlane player because the hero has high mobility, move speed, stats, and a very sly way to start fights moving enemies far from ally team. It's too profitable if you have a well-coordinated team, which allows Marci to be even better. 
If you play Marci pos-5, it's best to max with Dispose and Rebound. The hero can also be helpful as pos-4 support thanks to crowd control effects and the Sidekick. Marci has convenient team play skills, and she's not a greedy character. She doesn't need much farm in the early game and can save mates 4-5 times in a row because of the low mana cost Dispose and Rebound combo.
Cunning combinations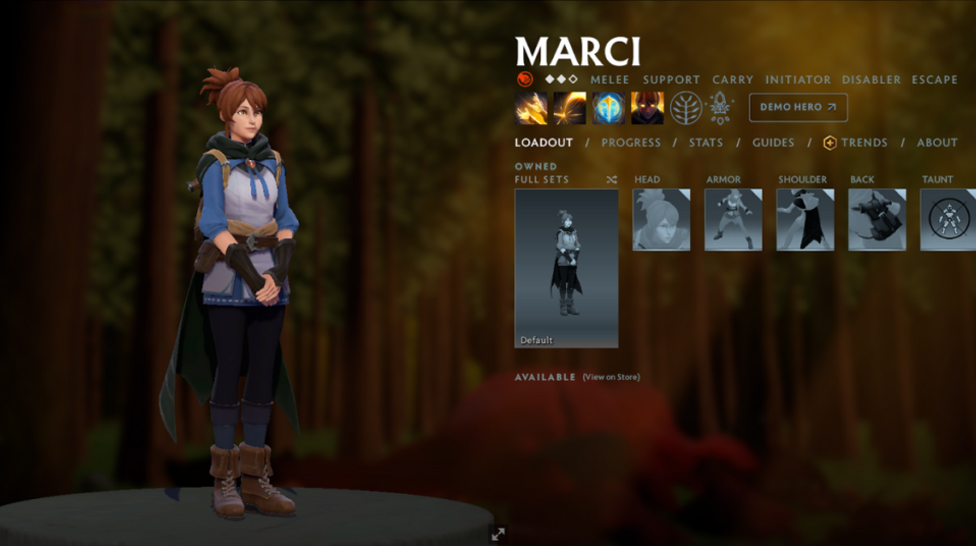 Dispose combines with significant damage from Rebound, making Marci a super initiator during all matches. This combination forces the enemy team to secure each other because group Marci + 1 kills nearly any hero without escape or Black King Bar. Remember the additional 2-sec stun from Dispose, which can't be dispel during the cast. Moreover, the combination Dispose + Rebound allows kite and survive through high grounds, and even your opponents have excellent vision. Also, notice about Sidekick and Unleash combo, which serves tons of damage through BKB or any other spell immunity. As a pos-5, Marci's task is to boost her teammates while being attention-seeking across the mass fight, play lane aggressively and roam mid, if possible.
Cheap and ordinary item build 
Initially, we take Tango, Mango, and Ring of Protection, which transforms into Soul Ring till the first night. This item is obligatory and synergizes well with Sidekick, and gives Marci additional strength and armor. Do not forget about the Magic Stick; you can stash Boots of Speed or Tranquil Boots. Of course, do not forget about situational items you can purchase to roam – Urn of Shadows, Arcane Boots, or Headdress- soon sell them or recraft them into advanced items. Marci has an excellent strength stat, off-hand damage, and a start-strong set of abilities. 
So, it's essential to pick up charge-keeping items because heroes constantly "live" in the middle of the fight. Taking Marci as a carry and investing most of the team's gold into her doesn't a profitable strategy, even she has practically no abilities to speed up farm.
Summary 
As for me, Marci hasn't team fight spells and underexplored Aghanim's Shard that I hadn't ever seen in public games. It's also unimaginable how to cast full ultimate when opponents always kite you with Force Staff, Eul, and Aeon Disk. Marci can dominate in ranked matchmaking, where players act separately. Competitive Dota is about permanent connection and coordination between mates, as well as with the coach. So, Marci seems to me a strong lane-sup hero but not a core who can toe-to-toe with classic pos-1 heroes.