Early buy
He took on the lane Tango, 3 Iron Branch, Magic Stick, and Quelling Blade. He bought Ring of Health and then immediately Vanguard for safe standing on the line; only after that MATUMBA upgraded Stick and brought Soul Ring. Next, he purchased Boots of Speed and farm to Power Treads. This is all in 12 minutes.
Ability build
Level 1 – Quill Spray or Viscous Nasal Goo (only if it is possible to kill the enemy on runes)
Level 2 – Bristleback
Level 3 – Quill Spray
Level 4 – Viscous Nasal Goo (if not taken at 1 level)
Level 5 – Quill Spray
Level 6 – Warpath
Level 7 – Quill Spray
Level 8 – Bristleback 
Level 9 – Bristleback
Level 11- Bristleback
Gameplay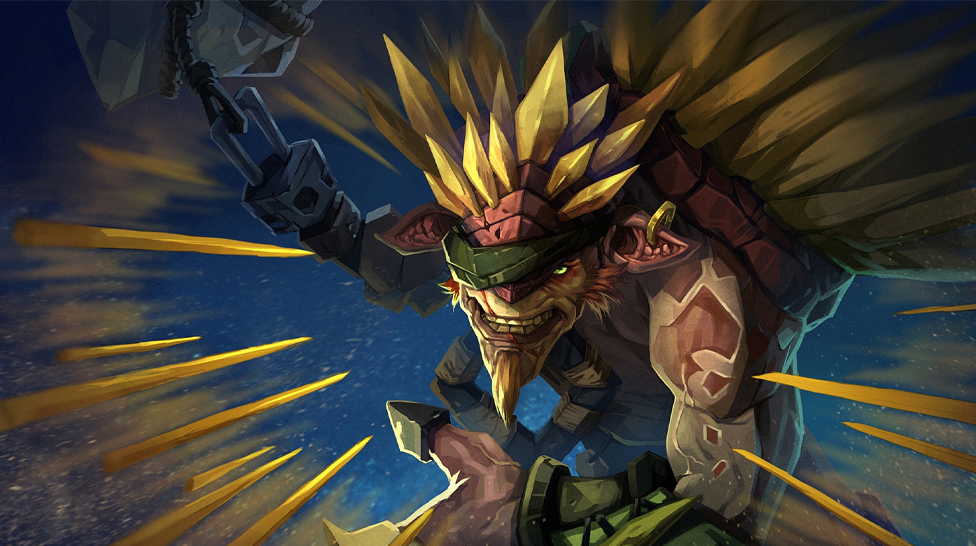 Bristleback is a hero that needs a good farm and a long time in the lane. After getting level 6 with Vanguard, MATUMBA starts farming a jungle, and his support Oracle leaves him and moves to the bottom. Enemy Visage can't stand against Bristleback and leaves him too. After that, MATUMBA starts pushing, breaks the tower, and kills Tundra's carry on Chaos Knight. Subsequently, he killed camps in the enemy jungle and went to the bottom. Here, he just farms jungle and lanes while his team creates fights. The courier with Aghanim arrives at 16 minutes, afterward MATUMBAMAN with the team force the fight, and he begins to take an active part in the match. 
Major artifacts
Aghanim's Scepter is an item that allows destroying enemies. It improves Viscous Nasal Goo (affects all units within range 800, increases stacks (7), and removes cast time). The next artifact is Assault Cuirass, but initially, he had Black King Bar in quick buy; he changed his mind because his team had numerous saves and dispels. Moreover, they dominated the map by a margin of 8k gold. MATUMBA bought BKB later and Abyssal Blade with Satanic at the game's final stage. In some situations, you can purchase Silver Edge, Linken's Sphere, Eternal Shroud, and Daedalus.
Team Liquid killed Roshan at 17:22 and 28:50. Bristleback got Aghanim's Shard, which gives a new spell, Hairball (mix of Goo and Quill). Then, the barracks were broken in the middle, and at the top, and after getting Abyssal with Satanic, MATUMBA became invincible. He went and did mega creeps, Tundra tried to defeat, but Brist arranged a fight under the fountain and did Rampage. The match was over at 38:26 with a net worth of 38k.
Team Liquid picked Keeper of the Light, which allowed to restore mana and recharge Bristleback throughout the game. An interesting point, Oracle with Purifying Flames not only heals Brist but also triggers his third skill. In conclusion, Silver Edge is the best item against Brist because it excludes half a hero, even through BKB. In addition, Axe and Legion Commander are problematic for him due to the possibility of turning it face to face or Phantom Assassin with Shard. 
Bristleback does not require a lot of playing experience and is very easy to master, especially now that it is a meta, and will help raise MMR quickly.