Early game (till 15 min)
Starting purchase: in most cases, the buy that you see in the picture will be universal. It includes Tango, Slippers, Circlet, Quelling Blade, and two branches.
Items that can be replaced are Branches and Slippers. Additionally, you can buy Magic Stick against heroes with spam spells. In any case, such a Quelling Blade and Circlet purchase will be basic items.
Slots
Wraith Band, Boots of Speed, you can buy Magic Wand and continue to collect Phase Boots, be sure to purchase Blades of Attack - it will also increase the damage to the creeps and enemy heroes. There is also a build that eliminates the purchase of a Wraith Band: from the first money, you buy a Magic Stick and continue to collect Phase Boots, this will speed up farming and movement in the lane, and it will be convenient for chasing after opponents using the first skill.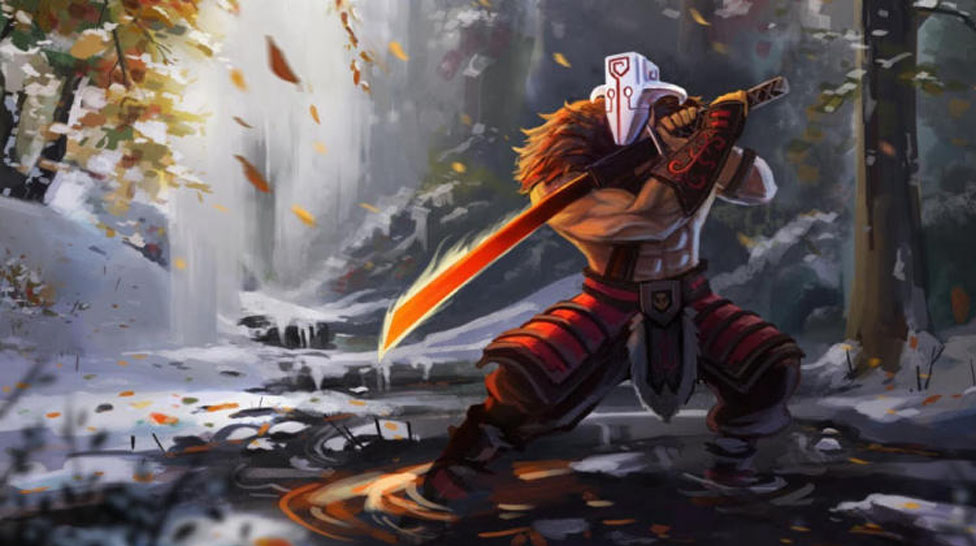 Then you just start collecting Maelstrom, an item that speeds things up a lot and gives damage in the early game, which is enough to kill most characters with an ult. This is the basic slot on Juggernaut. After that, collect Yasha in order to upgrade it in Manta Style. If you see that the game will be simple, you are not pressured in any way and are allowed to farm in peace, it is permissible to buy Hand of Midas to speed up farming even more, but it is still worth buying Maelstrom.
Skill build
There is only one option here; it will be universal and the only correct one. The skill build that you see in the picture allows you to easily enter fights at an early stage and just exit them using Bladefury. Passive skill. Why we do not max crits? Because it does not give additional damage to either creeps or heroes, but only the chances of crits. This skill is meaningless since our kill potential in the lane is realized exclusively through the first skill.
Lane Stage
As I already said, kills are possible only through the first skill, so if you have a support with a stun, or disable, then you are guaranteed to feel good in the lane and if you don't kill, then at least keep opponents at a low level of health and away from the creeps. Actually, this is the only scenario for playing as a juggernaut; if you don't want / can't kill enemies, carefully farm creeps and go into the forest closer to the mid-game.
Mid-game (15-30 min)
Here we also systematically get the necessary items and start to fight or push the opponent's towers. Optimal items include Manta Style, Skull Basher, Sange & Yasha, Aghanim Shard, and Eye of Skadi. Most often, from this list, you will have approximately this inventory by the 30th minute.
No one canceled the variability in the builds, so you can pick up items against the heroes that you play; I just showed the average build-up.
Late game (30+ min)
Here you already have sufficient superiority over your opponents. At this game stage, you have everything, both damage to buildings and heroes. Keep collecting expensive slots in your inventory and end the game, breaking the throne for your opponents.
It is essential to earn money playing Jugg consistently; you had a successful fight - retreated to the farm, demolished the tower - fled and farmed, bought the slot - killed Roshan and converted the advantage, and farmed again. Such an algorithm will always allow you to have the right amount of things to win.
Juggernaut is consistently strong against low-armor heroes with zero escape that can't get away from Bladefury and endless hits - Underlord, Gyrocopter, CM, Venomancer, and so on. It will feel lousy playing against heroes that can catch him and not let him out of control, literally preventing hitting and pressing buttons -Axe, Bane, Chaos Knight, etc.
Playing this character, you will never run out of kills and never be bored. The hero is easy to exploit; if you move around the map accurately, do not make unnecessary moves. I wish you, good teammates! GLHF!