Neutral Item Changes
Neutral items now and once; what's stronger? Therefore, here is a quick overview of the items added and removed in this game update. Here, in comparison, you can see which items have been changed and whether they have any advantage.
The First Tier
As planned by the game developers, this item tier should slightly increase our main attributes and give a slight advantage.
Seeds of Serenity is a new tier 1 item that grants +100 health. Active: Verdurous Dale. It creates a healing effect in the selected area, which gives allies who enter it +8 to restore health.
Lance of Pursuit is a new Tier 1 item that grants +200 mana. Passive: Hound. Attacking an enemy in the back deals 15 more damage and slows them by 12%/6% (melee/ranged) for 1 second.
Occult Bracelet is a new tier 1 item that gives +5 to all attributes. Passive: Rites of Eloshar. Each time someone attacks the wearer, it gains an effect that increases their mana regeneration by 0.5. Maximum effects: 5. Effect duration: 10 seconds.
Removed Items: Chipped Vest, Ocean Heart, Keen Optic.
Keen Optic has been replaced with a more balanced slot that is already in Tier 2. In my opinion, the new item has an advantage in several ways. The new item Seeds of Serenity benefits from the fact that this heal can be applied directly in the lane and on several allies, Occult Bracelet and Lance of Pursuit - can give you more mana and resources than the regular Ocean Heart.
The Second Tier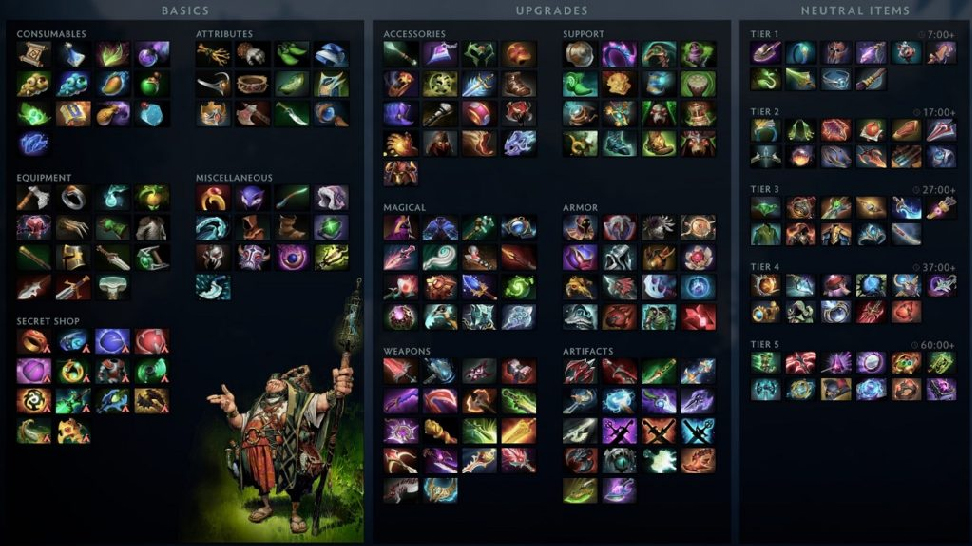 Eye of the Vizier - is a new Tier 2 item that grants +125 Cast Range, -20% Max Mana.
Specialist's Array - new tier 2 item that gives +8 to all attributes and +10 damage. Passive: Crackshot. Only ranged combat. The next attack will be made on 2 more targets within the attack radius. Additional targets cannot be affected by attack effects. Cooldown: 12 seconds.
Dagger of Ristul - is a new Tier 2 item that grants +10 Attack Speed. Removes 100 health from the wearer to increase their damage by 40 for 8 seconds. Active: Imbrue. Cooldown: 30 seconds.
Removed Items: Essence Ring, Fae Grenade, Quicksilver Amulet
It will be debatable to assert over the unambiguous victory of new or old items. Still, here I would maintain parity - since all items are sharpened for the patch in which they exist. Technically, the new items still boost the stats of the main attributes, along with giving damage along the way. If Valve decided they needed to provide ranged heroes a boost in patch 7.32, maybe they should have, even if they removed universal items for all characters. However, Essence Ring was a very cool item, suitable for any hero, here, I can't give a point to anyone - so we have a draw, with a slight advantage towards new ones.
The Third Tier
Ogre Seal Totem - is a new Tier 3 item that grants +12 Strength. Active: Ogre Seal Flop. The wearer gallops forward like a walrus two times, dealing 150 damage and slowing enemies' movement by 225 by 100% with each bounce. Range: 400. Slow Duration: 1 second. Mana cost: 75. Cooldown: 40 seconds. 
Starting from this item tier, there is a clear trend towards upgrading melee heroes with the strength attribute, in contrast to the second tier, where ranged combat prevailed. In this selection, +12 to the hero's power didn't look cool, but it's too good an item, so it should have been removed; it didn't fit the 3rd rank and was underestimated because it could be used by any character, and at any stage of the game. Win by a margin over old items. Spider Legs -item has been removed from the game.
The Fourth Tier
Havoc Hammer - Item returned to the game. The Leveller - Item removed from the game.
It's hard to compare these two items as they are designed for different types of heroes, rather, Havoc Hammer should be considered more offlane while The Leveller was designed for carry heroes. It will not be argued here which is better because these are two different eras of the game, and in each of them, the items were playable.
The Fifth Tier
Ex Machina- Reset Cooldowns mana cost increased from 0 to 350. Mirror Shield-Echo Shield cooldown increased from 8 to 12 seconds. This tier of items was left without new items but slightly changed the old ones, not critical in the case of Mirror Shield, but 350 mana for using Ex Machina is quite a noticeable change because now it requires careful calculation of mana in the late game in protracted fights, where there is no of this mana may prevent you from using some recharged item.
What do we end up with? With a slight margin, we award victory to new items, although the old ones were still just as good. Dota 2 is changing, and items need to change, neutrals are no exception. I wish you all victories with new jungle items! GLHF!