Do you want to have the best gpm in your team? Then it would be best if you learned how to play illusionists. For example, Naga Siren is ranked 4th in gpm, and Arc Warden is 1st. However, these heroes are not the easiest in Dota, to achieve a good result, you need strong micro-control and quick reaction skills.
How do you bind control units in Dota 2?
You have to change some settings to facilitate and improve the unit control technique. You need to set up groups of units. For this purpose, we go to the hotkeys tab in the Dota settings. Then we find the "control groups" section and bind groups on buttons that are convenient for you, I prefer numbers like Group 1 - 1, and don't forget to set the "Next unit". For better convenience, you can also set button binds for "Select hero" and "Select all controlled units", which will be located in the 'unit actions' section. 

Nonetheless, this is not the end, and you choose the hero you want to customize and go to the demo (Naga Siren). We use spells with illusions and divide into the groups we need, excrete the group, and press "Ctrl + 1 (or another key you chose for Group 1)"; it will be 1st group. When you press the "Key 1", you will automatically take the number of units you selected. 
Do the same to create 2nd group and the following ones, for example, for the Manta Style, but press "Ctrl + 2" and so on. If you are a pro-gamer and sweat every game, you can bind each illusion separately by doing the same but choosing only 1 illusion. All these settings will be saved exactly for the character you used (in my case, Naga Siren). For others, you need to configure them separately.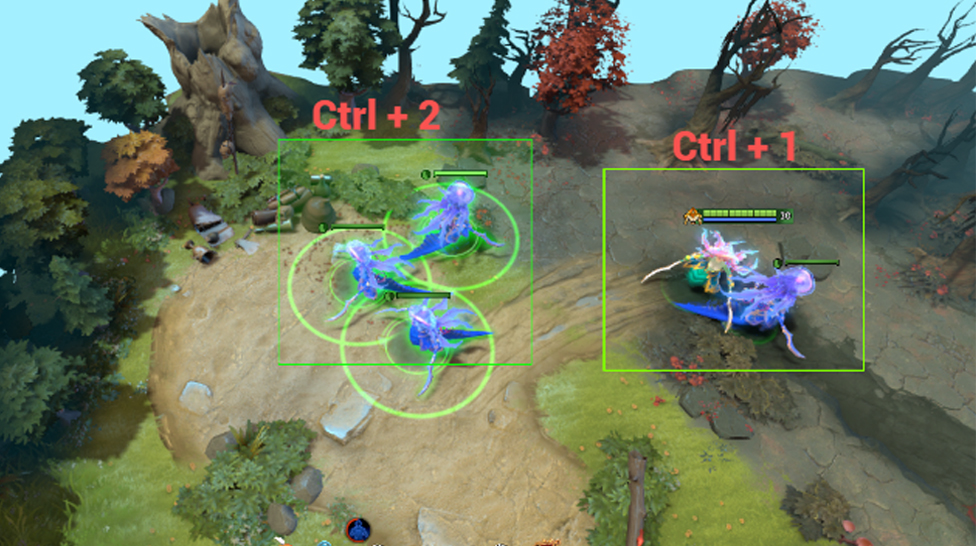 How do I assign a control group in Dota 2?
It's essential to note that the best hotkeys to use can vary depending on personal preference and playstyle. However, here a simple tutorial on "How To" make it:
Pick all illusions: Tap "Control + Click" on any one of the illusions. This will select all the controlled illusions;
Divide illusions: "Control + Right-click" on the ground will make all selected illusions move the map:
Attack command: "A + Right-click" will make the selected illusions attack the target or towers/raxes;
Stop commands: "S" key will stop the selected illusions from moving or attacking;
Focus fire command: "Control + Right-click" on an enemy hero or unit will make all selected illusions attack that target;
Send illusions to hero: "F1" key will select the hero and move the camera to their location;
Tab through illusions: "Tab" key will cycle through all the selected illusions, allowing the player to quickly concrete a specific illusion.
With the help of this mechanic, you will be able to share illusions by lines and camps much faster, which will give you an extra profit. Especially if you bought Radiance, sending illusion to the neutral camp is much more profitable. Moreover, if you need to escape from a fight, you can run in different directions with illusions and confuse the enemy.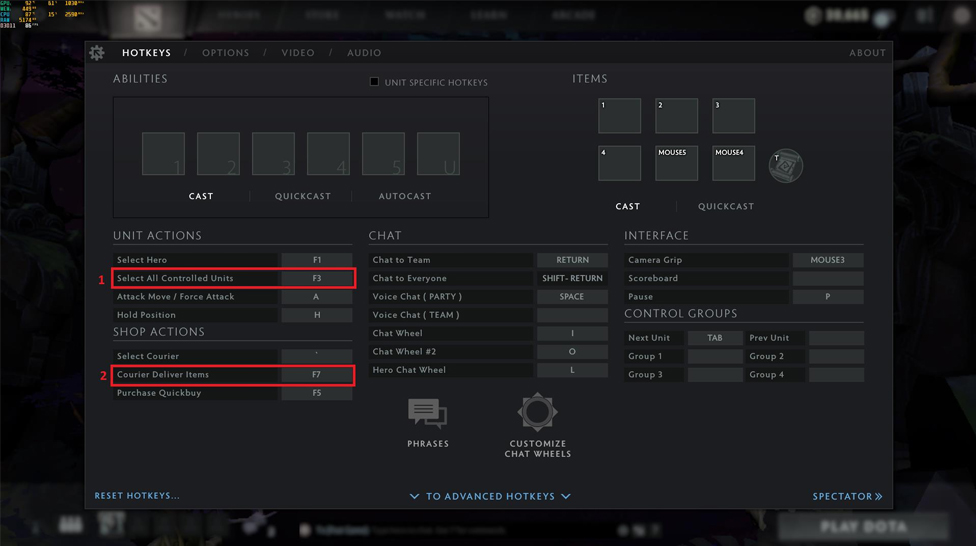 What items work on illusions in Dota?
The damage of illusions depends on the basic (white) damage of your hero, and that is why you need to take items for stats; because of this, everyone takes up Manta Style, Diffusal Blade, Butterfly, Eye of Skadi, and Heart of Tarrasque (for the survival of illusions) for Naga Siren (Radiance, if you can stay out of fights and farm for a long time), Phantom Lancer, Terrorblade. 
On the other hand, Chaos Knight prefers to purchase Sange and Yasha (in the event of a dire need for dispel, we take Manta Style), Heart of Tarrasque, and Armlet of Mordiggian. Armor and magic resist work according to the same scheme, so Assault Cuirass, Shiva's Guard, and Pipe of Insight will not work because it gives green armor, but items from misses work the same as they do for the hero.
Summary
 In conclusion, the following poles of these heroes can be distinguished: fast farm, serious damage with which you can kill enemy supports and sometimes carry in a few seconds, strong push potential the ability to deceive opponents. The obvious negative points are numerous counter-picks, so it is desirable to choose such characters last. 
Illusionists also require some skills and are not quite suitable for beginners. There you have to be more activity in the early stage of the game. Overall, this type of hero is my favorite. Which illusionist would you choose? Follow Dota 2 news and enjoy the game! Share your experience with Cyber-sport.io. Subscribe and follow the latest eSports news!