In the semi-finals of the IEM Rio Major, Ali's roster defeated Fnatic with a commanding performance, winning 16-11 on Inferno and 16-8 on Mirage. Outsiders easily defeated their opponents' thanks to Evgenii FL1T Lebedev's 1.41 KDA. Outsiders entered the IEM Rio Major after taking 8th place in European RMR B, and they have passed from the "Contenders" to the "Champions" stage. After the match against Fnatic, which Outsiders won 2-0, captain Dzhami Jame Ali was invited to the studio for an interview. Cyber-sport.io authors caught the crucial comments of the Russian team captain. 
Jame, do you think this best of three against Fnatic played out how you thought it would?
I didn't expect this result when it came to overtime, you know like we usually have overtime on overtime, and here it was like so one-sided that it was shocking even to us
So, looking at the first map of this match, we can conclude that it was simply Fnatic's destruction. They managed to win only the pistol round in the second part, and this is mostly due to Dion "FASHR" Derksen, who did 3 USP-S HS kills on the bombsite B defense.
Were you surprised at all that they chose Overpass, because you guys have played it twice, had good wins, and you're confident in it; did that surprise you?
We were 100 percent sure that they would pick Overpass, and the reason for that is that they probably don't feel comfortable on any other map
Outsiders won 2x Overpass maps before their match against Fantic, first against IHC Esports (16-12) and then against Vitality (16-12).
We saw that you play a lot of rounds in defaults, Outsiders played default, but they like to have a guy lurking on B, so is that something specific that they like to do we saw it in previous games, and we saw it here today in the 3rd round. Is it just individuals making those decisions, or is it something more planned by the other person?
This is just an element of strategy, I often lurk with Tec-9, so when there is an exchange, I expect that the person will leave B, go to the rotation, I always have the timing to go out there, and we use it, but not against everyone
Other teams also have this gameplay, but the Outsiders use it most often and probably the best because it has helped them win rounds more than once.
How Outsiders play as a team, and what do you think is the one thing you guys do compare to other teams that should be taken more seriously by other teams because you play very differently to most other teams in the world?
I don't really think that we played that much differently, and even if we are playing differently, it's probably because I am the captain and I am AWPer, so I am looking at the cross and holding angles all the time, and maybe because of that, I'm guiding the team differently because, you know, there's not a lot of igles and AWPer are combined in one player
If you analyze all the teams in this Major, besides the Outsiders, only 3 other teams have sniper captains (IHC Esports, Imperial Esports, Heroic)
How is it getting David n0rb3r7 Daniyelyan and Pyotr fame Bolyshev into the team? I know when n0rb3r7 first joined, he said he maybe couldn't understand all the strategies at first, so is that getting better now?
I think he still doesn't know all the strategies, but we trained for a long time during these six months and, it became much easier, we can compete with any team in the world
Virtus.Pro acquired n0rb3r7 and fame on May 31st. Of course, looking at n0rb3r7's game at the beginning of his career as VP, you can notice that his actions were not coordinated at some moments, in addition, David himself said in his July interview that Jame has the biggest brain, and n0rb3rt in the beginning, it was hard to understand him.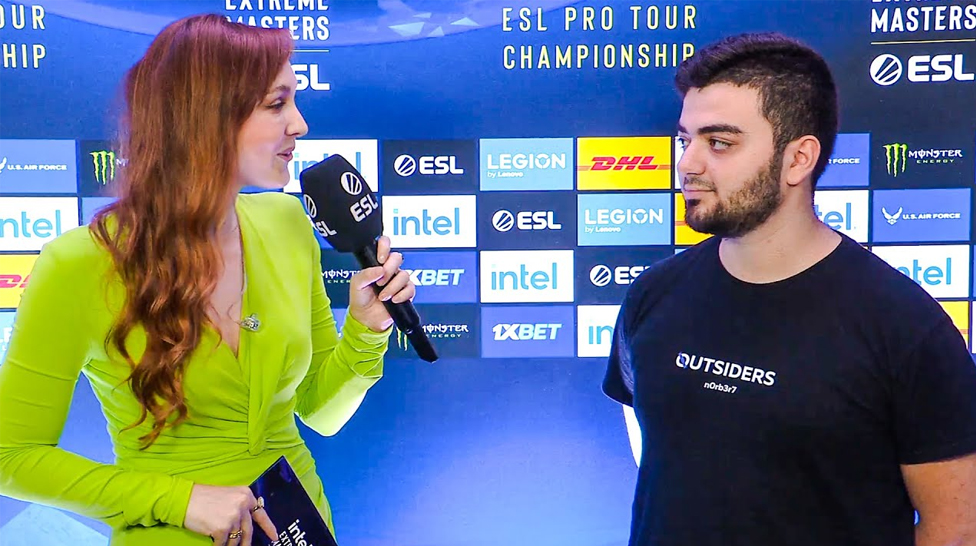 People talk about the way Outsiders play; how do you guys as a team deal with it, what do you think about the way people talk about Outsiders, like the slow plays and the saves?
For 5 years of my career and 1200 games on HLTV. In general, we play defaults, and it may be boring to watch, but it works
I'd be a liar if I said it wasn't. Indeed, the gameplay of this team is not the most spectacular or epic, but it really works, and it is not for nothing that the Outsiders play in the Grand Finals of the Major. In your opinion, which match was the most curious? Moreover, if we take yesterday's match against the MOUZ, the Outsiders, having 3 players left against 5, decided to save 3 AK-47s at 1:30 minutes, and, you know what, they won the next round.
In conclusion, we can say that this team is in peak form; they have come a long way to reach the grand finals and possibly win the major.
We are waiting for your feedback below! Could you expect the Russians took the IEM Rio Major cup? Share your minds with Cyber-sport.io. Subscribe and follow the latest eSports news!