This Major turned out to be terrible for the Ukrainian team, being the favorite of this tournament, they managed to take only 5-8th places, although the legendary stage was quite good for them. Before the match, Oleksandr s1mple Kostyliev gave a short interview. Cyber-sport.io noticed the most key phrases of the Ukrainian CS:GO "wizard".
You manage to get the first game, but Sasha that wasn't easy, electronic was saying there's a bit of pressure on the stage, you are warming up into things, are you warmed up now you guys ready?
We definitely needed some grounds to play, because it was a different feeling when you play with a crowd, and they cheer for you as well and it's so loud, and I don't know it's like sometimes, we even couldn't hear each other we gave important information, and we just couldn't hear because there was so many action place
Before this match, NaVi played a map against Team Vitality, and it was really intriguing and challenging for both teams, Mirage lasted 46 rounds, but NaVi still managed to win with a score of 25:21. Analyzing the problems with the crowd's screams, many analysts and players have already complained about the lack of soundproof booths. In our opinion, this is only one of the tests of this tournament, because both teams were on equal terms, and it all depended on the ability of the team to adapt, and what do you think about this topic?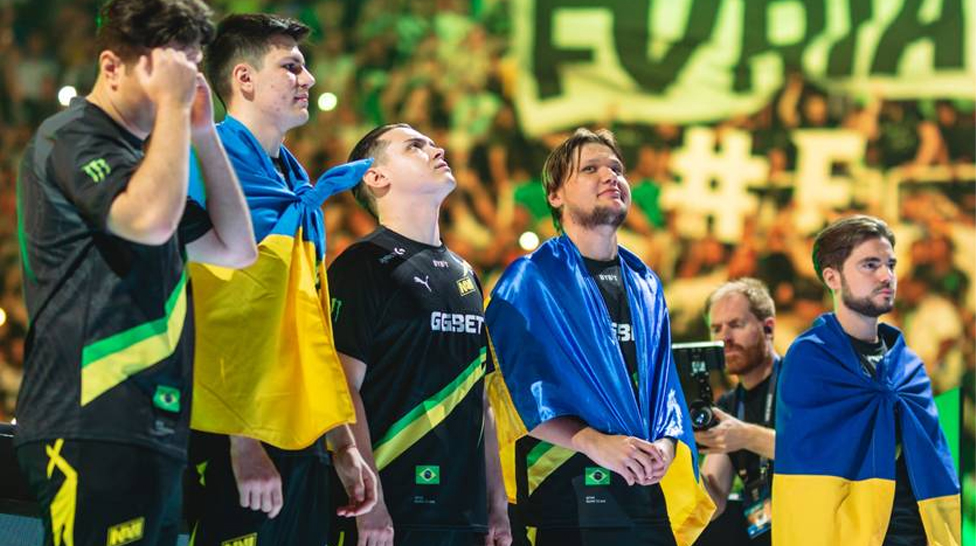 This is the first time, this year, you're gonna be playing against Cloud9, they had a very shaky first stage, but now they look great in this game against FaZe Clan, what is making them, how do you think?
I think, they're getting better and better Cloud9, their advantage that they played all games on Challengers and Legends all of them was like overtimes or 16, 13 or 14, and in most of the games they did comebacks, and it's going to be interesting to play because last time I think we played like 300 plus days ago against them, and we know how they play
Cloud9 came a long way from European RMR A and got to the "Challengers" stage, and later to the legends, where they finished with a score of 3:0 and entered the champions stage, but unfortunately for their fans, they lost the first match against the MOUZ.
Sasha said a lot about the analysis of the cloud game, that they understood a lot of their tactics before, but still, time goes by, and their opponents got better because NaVi lost this game. 
However, the match was very even and protracted, maybe not the most interesting, but there were highlights, for example, Viktor sdy Orudzhev's 1vs3 clutch attempt (T-plant), but in the 30th round it all ended with a score of 14:15. This was not the end for Navi; they played four more matches, including one against FURIA in the champions stage, which was truly spectacular; the stands went wild, but their Brazilian opponents won. Sasha also shared his emotions after being eliminated from the quarterfinals.
What do you think is the reason for your loss?
I feel, we didn't play our game at all on third map especially, there were so many unlucky situations, I'm talking about my game, but just excuse we just played scared on CT side. FURIA prepare better and we were so scared to do some moves when we needed to do them
Despite such a painful defeat for Sasha, he later won the player of the decade award and his face was full of smiles, so I think he was really happy and this tournament was a success for him. 
What's your plan, will you focus on something specific, what's gonna happen?
We have two more tournaments left, so we'll try to get at least one and I don't know just need to fix mistakes and play brave
After all, this is not the end of the season for NaVi, because we still have the BLAST Premier Final 2022 where they will certainly perform, and a little later, IEM Katowice 2023. We expect a lot of emotions from all this, and what are your predictions? Share your thoughts with Cyber-sport.io. Subscribe and follow the latest eSports news!